Roman blinds are definitely some ultra-stylish window treatments. They add so much elegance and class to any room. But the big question for our DIY customers remains: are roman blinds easy to install? When we say our window treatments are simple to DIY, we really mean it. Read on to find out just how simple it is to install roman blinds on your own.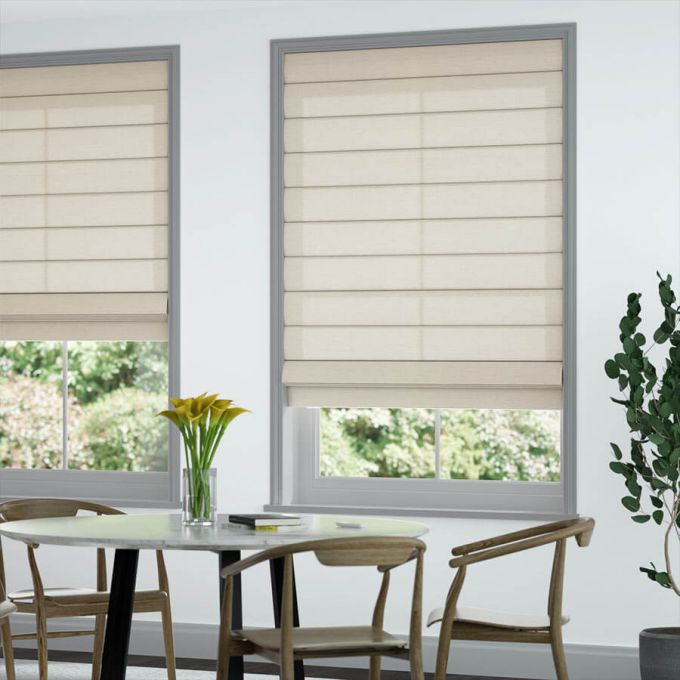 How Do I Simplify Roman Blinds Installation?
Before we get into installation, let's start with how to measure. If your blinds aren't the right size – no matter the style – the installation will be downright impossible. To make sure you have the right measurements, check our measuring guide beforehand. You'll have to decide if you want your roman shades to be inside mount (inside the window frame) or outside mount (outside the frame). Inside mount measurements need to be exact so be sure to watch the measuring video to find out how to measure correctly.
We recommend an outside mount if you prefer to hide your window frame and if you would like to create a blackout effect. No light will enter this way. Otherwise, you can go for an inside mount and keep your window frame on display.
How Do I Install My Roman Blinds?
Once you have measured, ordered your free samples, and ordered your shades, you will receive your new window treatments with everything you need for installation, including instructions. If you can't find them, you can always download your roman blind installation tips right here. We recommend reading the instructions all the way through before you even pick up a tool.
This will help you understand the process before you dive in. Be sure to select the installation guide that corresponds to your exact product as there may be differences from one product to another. Next, grab a drill and whatever else the instructions recommend. In terms of tools, a drill is all you'll need. DIYing your own windows is simple and easy – we promise!
How Long Will It Take to Install My Roman Blinds?
If you watch the video below, you'll see that you should have no trouble installing your own shades in a short time. It really is easy to install roman blinds on your own. If you have any issues, our customer service team is always standing by to help. In the rare event that any screws are missing, just connect with us and we'll get them sent out right away.
Installing your own window treatments is easy, even if you're a novice DIYer and haven't even seen a drill before today. We promise, measuring and installation is as easy as 1,2, 3!
How to Avoid Common Installation Pitfalls
To avoid any issues when installing your window treatments, read the instructions and follow them all. Go one step at a time and remember that you never need to use force. If something doesn't fit smoothly, go back and see if there was an error somewhere along the way. Forcing things into place can damage the products and make it impossible for you to complete installation.
If you made a mistake while measuring and now your blinds don't fit, don't sweat it. Our Perfect Fit Guarantee will cover it. We'll help you re-measure and remake your blinds for free. Our goal is to make the entire DIY process simple from start to finish.
Have you ever installed your own window treatments? Do you have questions about installing roman blinds or any of our other window treatments? Let us know in the comments below. We're always happy to help.