This is probably the most asked question of all time when it comes to window coverings. Of course, you want to let that bright sunshine in but not at the expense of your privacy. We want that light but don't want our neighbours seeing us in our underwear either, right? Luckily, there are a few different options when it comes to window treatments that do just this. Read on to find out what you can do to keep light in but keep privacy, too.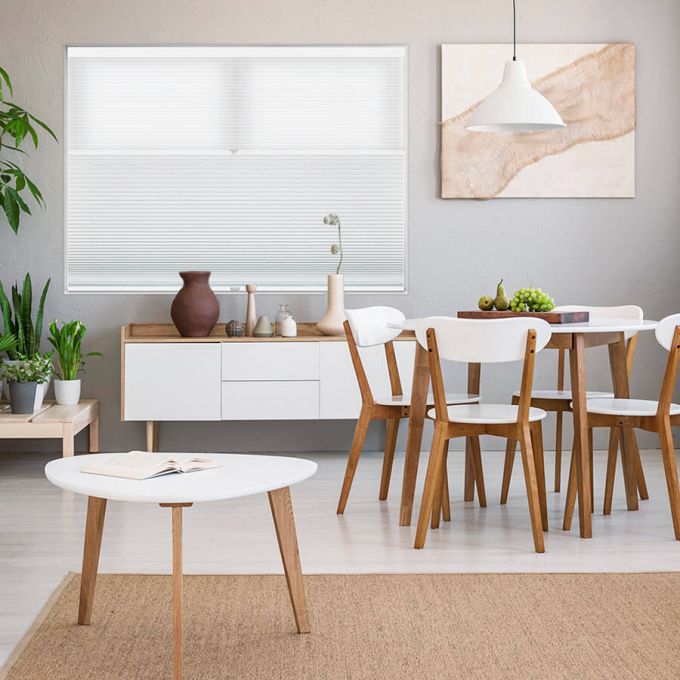 Solar Shades
Our solar shades are made for just this. They come in different openness percentages ranging from 1% to 14%. The 1% solar shades are nearly blackout but 14% lets in the most light. The beauty of solar shades is that you can choose the openness you want to let in the right amount of light for your home. If you get loads of sunshine, you may want to lower the openness. If you need more sunshine coming through, choose a higher openness percentage.
The other great part is that solar shades are private. That means you can see out and sunshine can get in but outsiders can't see in. And they also block both UV rays and glare. Your home will be nice and bright but the heat won't come in. If you have very large windows and your home turns into a furnace in summer, solar shades can minimize the heat coming in so you don't have to crank up your air conditioning all day long.
Day and Night Honeycomb Shades
The Day and Night shades are perfect if you want the best of both worlds. You can pull them up for a room darkening effect or pull them down for a light filtering effect. The light filtering end allows light to flow through but doesn't expose your home to every passerby. If you want even more privacy, you can always pull them up to block the window even more.
The best part is that cellular shades have a unique honeycomb design that traps air inside so they can insulate the window, keeping it cooler in summer and warmer in winter. They can keep the temperature in your room stable and save you some money on your energy bills.
Layering Shades with Drapes
Another great option is to choose the shades you love and layer them with lined drapes. Then you can simply shut the drapes when you want or need privacy. If you want maximum privacy, we highly recommend a blackout liner. This will block noise and light and definitely prevent anyone on the street from seeing inside.
Layering Inside and Outside Mount Blinds or Shades
Another option you have is to choose a light-filtering shade to mount inside your window frame and layer it with a privacy shade mounted outside the frame. This is a more costly alternative but it is a great solution if you don't want to layer with draperies or if you have different needs at different times of the day. You can choose a light filtering shade for the inside and layer with a privacy shade like a roman shade on top.
Privacy and lighting are the most important factors when it comes to selecting the right shades for your home. If you're still unsure which products are right for you, feel free to get in touch. Our customer service team is always here to help. You can even ask us for help in the comments section below.