An energy-efficient home is often associated with specialized lighting, appliances, and insulation. But did you know about 30% of a home's energy is lost through its windows? Here in Canada, we spend more money on household electricity consumption than anywhere else in North America. Inefficient window coverings mean your money is literally going out the window. Here are 5 reasons to make energy-efficient blinds a priority for your house.
LOWER ENERGY BILLS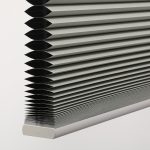 Who doesn't like to save money? Covering your windows with energy-efficient blinds can help regulate the temperature in your house and cut energy costs. Insulated cellular shades, also known as honeycomb shades, trap air in cells through a layered design. But you don't need to know the mechanics of these champions of conservation. You only need to know that installing these blinds can mean more money in your pocket.
YEAR-ROUND PRACTICALITY
Whether you're trying to keep a space warm in the winter or cool in the summer, energy-efficient blinds are your best bet. Expose east-facing windows to the morning light in the winter and block those same rays in the summer. The result is a home that's temperature-perfect all year long.
STYLE
Going energy-efficient doesn't mean sacrificing style. With a wide array of choices in so many fabrics, designs, and colours, there's something for every room in your house. From a classic look to modern sophistication, a smaller carbon footprint never looked so good.
INTERIOR PROTECTION
Sunscreen is the norm for most of us before heading out on a summer day. We know that sunlight can be harmful to skin, and the same sun streaming through a window can damage furniture, carpet and art. Protecting your home's interior from sun damage is as easy as using solar shades on your windows. Not only do these shades defend against UV rays, but they can also help control a room's temperature while keeping your view to the outside.
INCREASED HOME RESALE
Outfitting your home with energy-efficient blinds is an investment now and forever. Enjoy decreased energy bills as long as you own your home, then use the upgrade as a selling point in the event of a move. Blinds that reduce a prospective homeowner's future bills are an attractive asset.
When it comes to energy-efficient blinds, SelectBlinds Canada has you covered. Check out our diverse collection made to fit any home and any budget.