Are you revamping your RV this summer and planning some epic road trips? Travelling around in luxury and style is a great way to enjoy your summer vacation – that's for sure! But we get it, you don't want to spend a fortune on restyling your RV. Here are our suggestions for the best window coverings for your RV.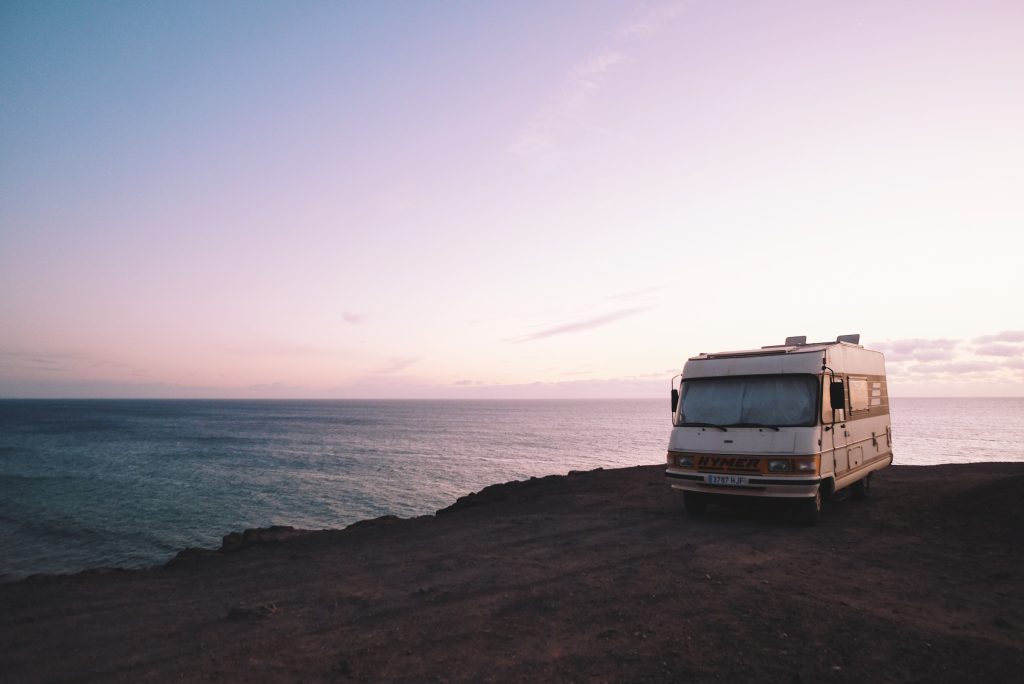 Photo by Stijn te Strake on Unsplash
How to Choose Window Coverings for Your RV
When it comes to selecting window coverings for your RV, you have to consider the same things you would if you were buying new window treatments for your home. Here are a few things to consider:
Do I need privacy?
Do I need blackout?
How easy are they to clean?
How much moisture is in the area?
How easily do they stain?
How much will they cost?
To make sure you choose the right window coverings for your RV refresh this spring, here are our top choices along with a few reasons why we think they make a great fit for your vehicle.
Vinyl Blackout Roller Shades
We love vinyl roller shades for the RV for a few reasons. Firstly, they are easy to maintain and clean. Vinyl doesn't stain easily and it just wipes clean with a damp cloth. You can also count on the blackout fabric to block out early morning light and get better sleep. Plus, you can get the privacy you need when you are in a crowded RV lot.
Vinyl roller shades are also one of the most affordable window coverings you can get and they are very practical. You can even upgrade them to a motorized lift system if you want them to be even more convenient.
Here's a clip of Quebec influencer, François Charron showing off our vinyl rollers in his RV makeover project!
Bamboo Shades
We love bamboo shades for RVs because they add a touch of style. They are made from sustainable materials so they reduce your carbon footprint and they are very practical. You can customize it with a liner if you want more or less privacy or light blockage and still maintain the stylish look you want.
We love how they warm up the ambiance and give the whole space a much softer style. You can make your RV feel like home with woven shades.
Honeycomb Shades
We also recommend honeycomb/cellular shades for RVs. They come in almost every colour you can imagine and they are insulating. This means they can minimize your energy costs by maintaining the temperature inside the RV a little better than regular window blinds or shades.
They're also extremely versatile. You can choose light filtering, blackout, or go for our Two-Fabric Honeycomb shades to switch from light filtering to blackout easily. You can choose a cordless lift or upgrade to a motorized lift to add a modern edge to your stylish RV.
Quick Tips on Choosing Window Blinds or Shades
No matter where you are putting your new window blinds, you should always consider these elements before making your choice:
Your Needs
We all love to have stylish picks in our homes or RVs, but practicality has to be your number one concern. If your shades aren't practical for the needs you have in that space, you won't be happy with your selection. Always choose the products that check all of your boxes in a given room.
Your Budget
No one wants to break the bank. To make sure you stick to your budget, decide how much you can afford and filter through the product list by price. This way, you'll only see the items that work with your budget.
Durability
All of our window treatments are durable and made with high-quality craftsmanship, but some materials are better suited to certain areas than others. For example, we don't recommend genuine wood or bamboo in humid areas like the bathroom or kitchen. Natural wood absorbs moisture; over time, excessive humidity can damage your window blinds. It is best to go with something that doesn't absorb moisture like faux wood or vinyl.
What are your top picks for RV windows?