We definitely consider ourselves to be the blind experts – it's kind of our thing! But sometimes we get so caught up in the world of blinds that we forget our customers may not spend their days thinking about or writing blinds like we do. If you're new to the site, you may be wondering what certain terms actually mean. Read on to find out what these common window treatment terms mean so you can pick the perfect products for your needs!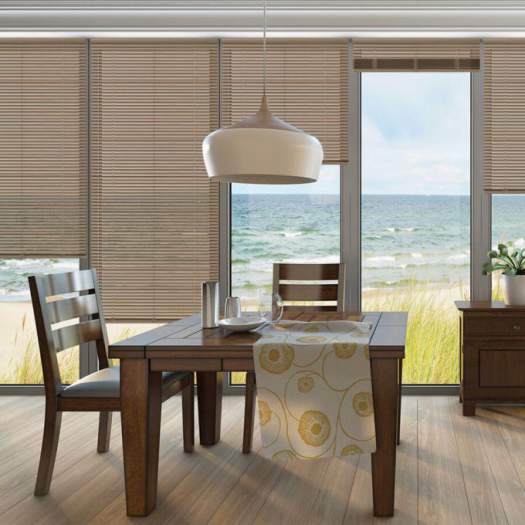 Light Filtering, Room Darkening, and Blackout
When we refer to window treatments as light filtering, it means that light filters through them. So, you can have a shade that covers the whole window to give you privacy but still allows light to come in. Light filtering shades are ideal for rooms like kitchens, dining rooms, and living rooms. They allow you to maximize natural light while still keeping your private life private!
Room darkening refers to shades that don't block out all light but can help darken the room when needed. You can tilt them one way to get light into the room and tilt them another way to darken it. Blackout shades block 100% of the incoming light, making them ideal for bedrooms or nurseries. They allow you to get better sleep by blocking light and even some noise.
Light Gap
If you're shopping for roller shades, you may see the term "light gap" in the product details. This means that if you choose an inside mount, the product will have a gap on either side between the edge of the material and the window frame. This is necessary to prevent the material from fraying and is seen industry-wide. If you choose blackout shades, there will be a halo effect when the shades are drawn as light enters from the gaps on the sides.
This isn't a problem when you choose light filtering products. But if you want complete light blockage, we always recommend mounting your window covering outside the window frame instead. This will eliminate the light gap issue and make your room completely dark.
Flush Mount Depth
The flush mount depth is the minimum depth the window frame needs to have in order for your shades to be flush with the frame. In other words, if your window has a depth of only 1" but the shades you want require 3", your shades will stick out of the window frame. Ideally, you don't want inside mount window coverings to stick out. They should be flush. Always check the minimum depth requirement for the product you are interested in before you purchase.
Factory Deductions
This term is just about everywhere! We want you to measure your window, as per our measuring guide. The factory will automatically make the necessary deductions to ensure the window covering fits into your window frame nicely. If you account for those deductions in the measurements you provide, our factory won't know and will add their own deductions. This will make your window coverings too short or narrow. Instead, we recommend you measure the window and let the pros at the factory make sure the product fits perfectly.
Stacking
When you have vertical blinds, we ask you to choose where you want the slats to stack. They can stack to the right, left, or even in the middle. Stacking simply refers to the side to which the vertical slats will move when you pull back your blinds completely. We have some graphics on our vertical blinds product pages for you to look at so you can make the right decision.
Shades or Blinds?
Most people refer to both of these products interchangeably but they're actually very different. Shades are one solid piece of fabric, like roller shades or roman shades. They can be lifted from the bottom or have a top-down bottom-up lift, but they do not open anywhere in between. Blinds have slats, like faux wood blinds. This allows you to adjust them for light and privacy control. You can turn the slats to the angle of your preference to let in more or less light.
What are some of the window treatment terms you've seen that have got you stumped? Ask us in the comments below and we'll be happy to clarify for you.