Faux wood blinds are as traditional as it gets when it comes to window treatments. No matter how styles and tastes may change, you can always count on faux wood blinds for their versatile and practical characteristics. If you're still trying to figure out which are the right blinds for you, you won't want to miss this post. Keep reading to find out just why faux wood blinds may be the perfect fit for your home!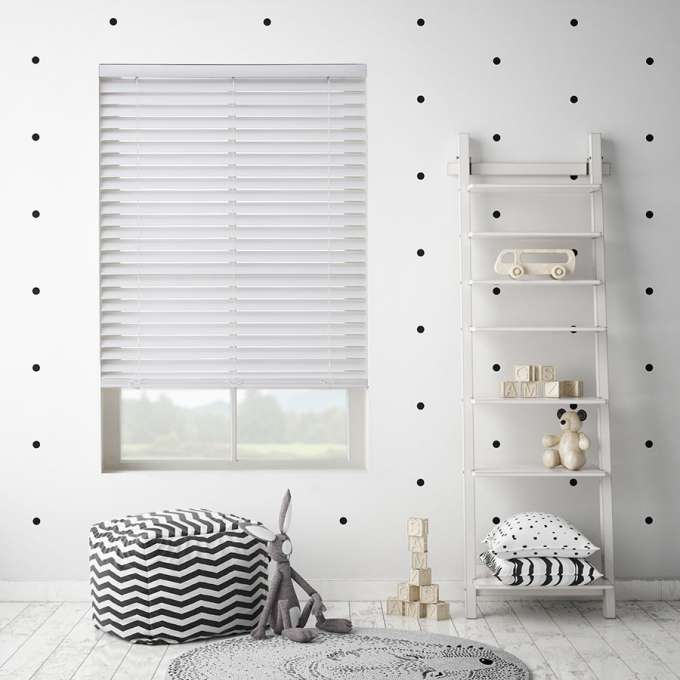 Faux Wood Blinds
These window treatments have been on the market for what feels like forever – and for good reason! They are one of the most sought-after window treatments out there and we're going to tell you why. Keep reading to find out what makes faux wood blinds so awesome. Trust us, there are plenty of reasons to love faux wood blinds!
1. Simple Light and Privacy Control
Adjusting your level of privacy and the amount of light coming in is a snap with faux wood blinds. You can adjust the slats in seconds to allow in more or less light. You can easily pull them all the way up for maximum light during the day and just as easily pull them down and shut them for privacy at night. They're so versatile that they can work in any room of the house.
2. Durable
Faux wood blinds have the beautiful look of real wood but are easier to maintain. They don't bend or warp with moisture or humidity. They don't scratch or stain either. You can count on these to survive no matter where you place them in your home – even right above the kitchen sink! Durability is a key factor when it comes to buying window treatments. You want something that will last and look great.
3. Easy to Clean
With a damp cloth, you can easily get dust and dirt off the slats. Faux wood blinds are so easy to keep clean – one less task to worry about! Plus, their durable construction and finish make them virtually stain-proof. Just wipe them down once a week to keep them looking their best. Faux wood blinds don't discolour easily either. You can count on these blinds for years to come.
4. Affordable
In addition to their easy maintenance and durability, faux wood blinds are also among the most cost-effective blinds you can get. They offer a stylish look and quality craftsmanship at a reasonable price. You shouldn't have to sacrifice quality and durability to save a buck. Affordability and quality should go hand in hand and with faux wood blinds, they definitely do!
5. They're Cordless
Dangling cords can be dangerous for young children and pets. Faux wood blinds have traditionally been sold with a corded lift system. However, we now offer cordless faux wood blinds. This allows you to get the style and practicality you want while still maintaining maximum safety in your home. Plus, cordless blinds are simple to use and adjust.
Have you considered faux wood blinds before? What are some of your questions when it comes to choosing your window treatments? Ask us below. We're always happy to help.