You may hear both terms, roller shades and solar shades, used interchangeably, but there's a huge difference between the two. Brush up on your window treatment knowledge with this blog post. Read on to find out more about the difference between a roller shade and a solar shade.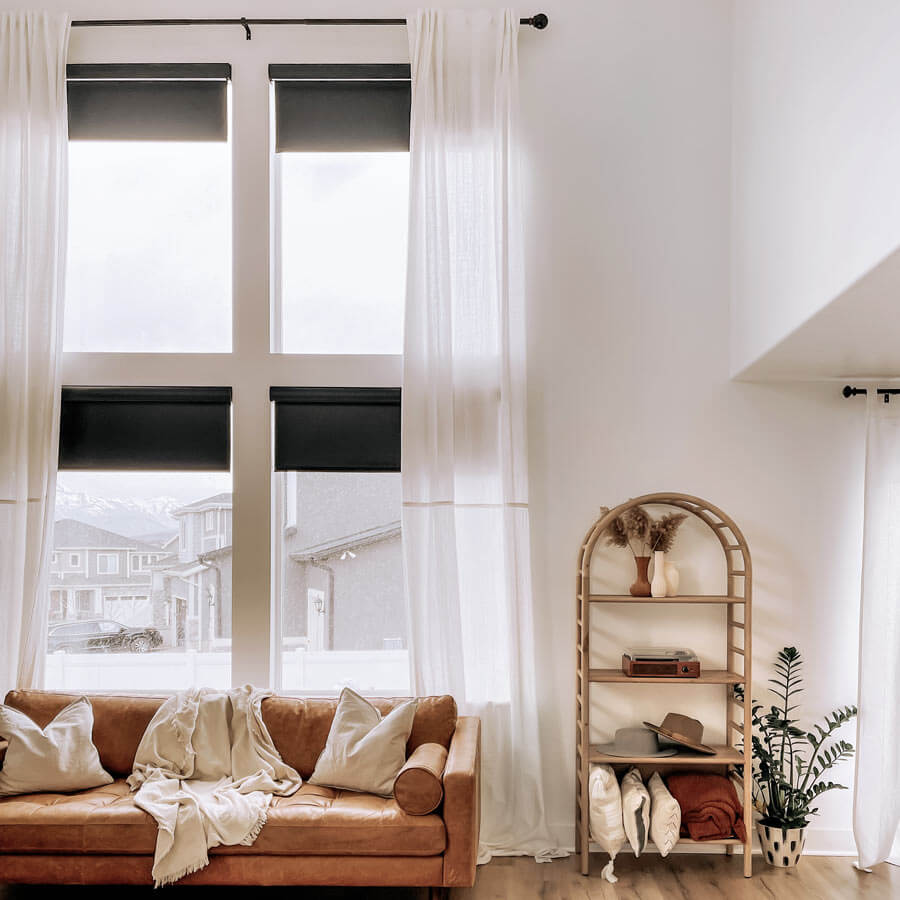 What Are Roller Shades?
Roller shades can include solar shades, but not all rollers are solars. Does that make sense? Ok, so we can see where the confusion lies. Roller shades is a broad term that refers to shades that roll back and forth to open and close. Solar shades do operate this way but the roller shade category is so much broader, and not limited to solar shades alone.
Our roller shades vary in fabrics and light control. For example, you can choose from different types of vinyl or different fabrics. You can select light filtering shades or blackout so there is something for every room in the home. Roller shades are a very general category so you'll have to narrow down your search quite a bit to find the perfect one.
What Are Solar Shades?
While solar shades are rollers, they are a very specific kind of roller shade. The main purpose of a solar shade is to block light and UV rays and to cut glare on screens in the room. They range in openness so you go from a 14% openness if you want to block 86% of UV rays and still let light filter through, or a 1% openness to nearly block out all light and UV rays.
They are ideal for media rooms, home theatres, and home offices. The openness will depend on where you need your solar shades and what purpose you need them to serve in each respective room.
The Difference Between a Roller Shade and a Solar Shade
The main difference is that roller shades are a general product with a multitude of light and privacy control options and solar shades serve a distinct purpose, which is to cut glare and UV rays. UV rays can actually damage furniture and carpeting over time so these can also be helpful in rooms that get far too much sun. The excessive sunlight can also overheat your room so cutting UV rays will help minimize that, too.
There are some similarities with both of these products, too. They both come in a range of colours and most models in each category can be upgraded to a motorized lift system. We also offer a Smart Blinds system which can really help you upgrade your home to a more modern and efficient space.
The price points vary widely because we want everyone, no matter their budget, to find the perfect window treatments. Plus, they have a very sleek and contemporary look them so they can easily refresh your home and make it look more modern in no time.
How Do I Choose Between a Roller Shade and a Solar Shade?
The first thing we suggest is to make a list of your needs in each room in your home. Choosing blinds or shades you'll love depends on finding a product that fulfills your needs in each room. For example, if you're looking for privacy in the bedroom, a blackout roller shade will fit the bill. But if you want to enjoy natural light in your home office during the day and don't really make use of the space at night, then solar shades may be the better fit.
If you aren't sure how to choose the right product, don't sweat it. Our customer service team is available to help you out anytime. You can find their contact info right here! You can also order free samples of any of our products so you can see and feel the materials yourself before you place your order.
Do you have any other questions about the difference between a roller shade and a solar shade? Or any other window treatments Qs? Ask us in the comments below.