Are you looking for a way to maximize your sleep? Create a peaceful and serene space for rest by completely blacking out your room. Light creeping in through the windows can disrupt your sleep and for some, it can be impossible to get back to sleep after the disturbance. A dark room – no matter how bright it is outside – will help you get a longer and more restful sleep. Read on to find out how to completely black out your room for better sleep.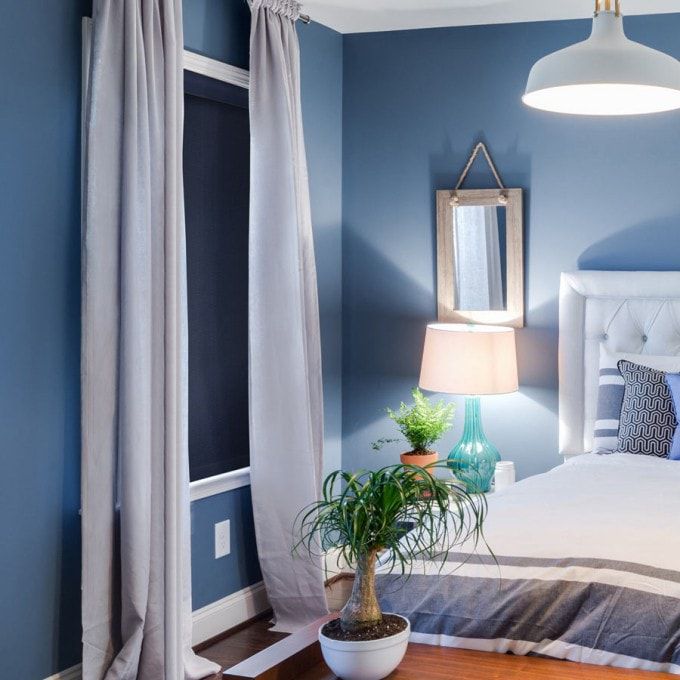 Invest in Blackout Shades
Blackout shades have the ability to block both light and some noise from the outside. If you work odd hours and need rest during the day, or if the early morning sunrise is a huge sleep disturbance for you, then blackout shades can really help. They also help babies and children sleep better by keeping the environment dark at any time of the day. Naps are a breeze when all light is blocked out of the room.
Choose Outside Mount Installation
Outside mount shades are the best option for total black out in a room. Inside mount shades are roughly 1/4" narrower than the window frame to ensure the material doesn't fray as the shades go up and down. This can result in a halo effect when the light starts to come in every morning. If you want to completely black out the room, choose outside mount. This is when shades are installed over the window frame. They keep the light from entering the room at all.
Install Blackout Drapes Over Your Blinds
If you really want to maximize the light and sound blockage, it's also a great idea to layer your blinds or shades with blackout drapes. These keep the room extra dark so even if you're extremely sensitive to light, you won't be disrupted by any of it. Plus, the layered look of window treatments is a trendy look interior designers everywhere are loving right now.
Blackout Liner
When searching for blackout blinds, keep in mind that many of our blinds, shades, and curtains come with an option to add a blackout liner. That means if you spotted some gorgeous light filtering woven shades and thought you'd have to forego them, you don't. Many of our products come with the option to add a blackout liner so you can get the look, style, or fabric you want and simply add on the blackout effect you need.
Studies show blackout rooms help people sleep better. You can get a longer, more restful sleep with some blackout window treatments. What are your sleeping habits? Do you need to completely black out a room to sleep well?