There are different advantages and disadvantages to roller shades and cellular shades. We have broken it all down for you right here to help you make the right decision for your home. Read on to discover more about roller shades vs cellular shades and which are better for your home and needs.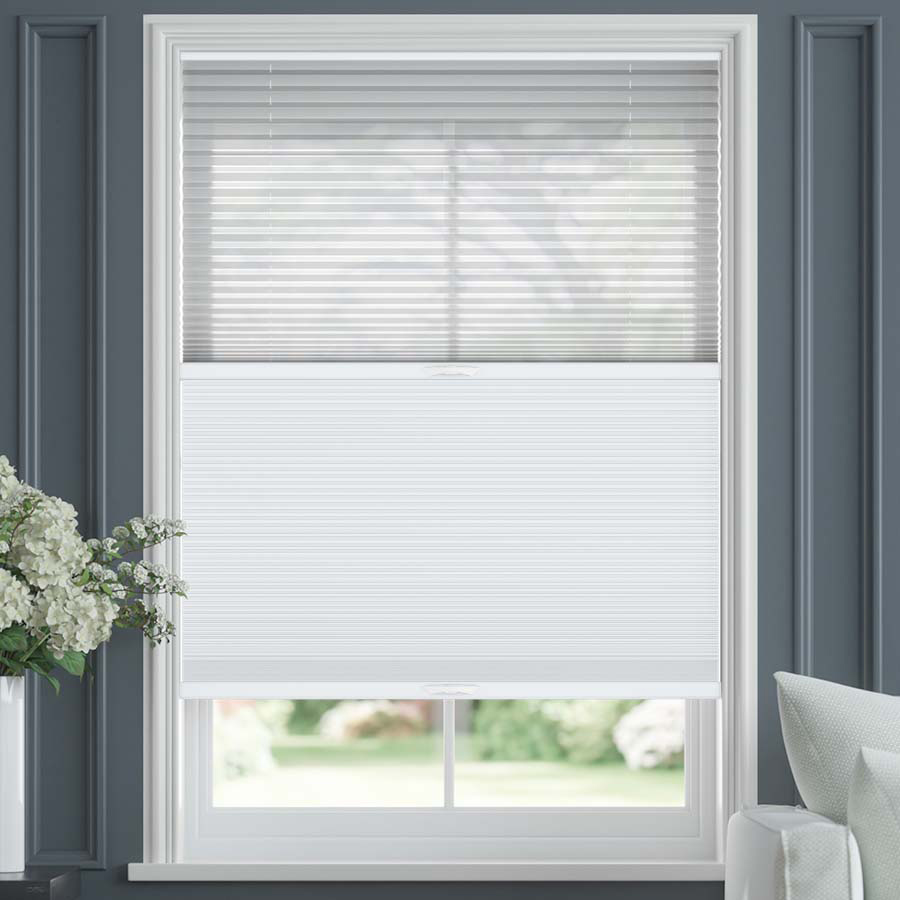 The debate is on. Roller shades vs cellular shades…which are better? Let's start by learning more about each product.
What Are Roller Shades?
Roller shades are a solid piece of fabric that come in light-filtering fabrics or blackout fabrics. We also offer solar roller shades for UV blockage. Roller shades are a very convenient product and they offer a sleek, modern finish.
The latest addition to our roller shades family, Classic Double Roller Shades offer two layers of fabric in one convenient roller. This way, you can switch from light-filtering to blackout without layering with any other products. No more compromising privacy at night for sunlight during the day.
The Advantages of Roller Shades
Roller shades offer numerous benefits. Here's a quick look at what sets them apart:
Simplicity: Their sleek look blends in seamlessly with any home decor style. If you don't want your window coverings to command too much attention or take the spotlight off the focal point in your room, these understated window coverings are a great choice.
Versatility: With so many different fabric options, finishes, and colours, you can find something for any room in your home, no matter your theme or style.
Affordability: These sleek shades come in a range of prices but they are among the most practical and economical. They offer plenty of bang for your buck and the fabrics vary so you can find something for a small budget or a more flexible one.
Modernity: Aside from their modern aesthetic, roller shades can easily be upgraded to a motorized or smart blinds system for added convenience and luxury.
What Are Cellular Shades?
Cellular shades have a similar functionality to roller shades but they offer a honeycomb design between the two layers of fabric that make up the shade. Whether single-cell or double-cell, this unique design traps air inside, insulting your windows well. This can save you money on your upcoming energy bills all year round.
Just like our rollers collection, the honeycomb collection also offers a two-in-one product so you don't have to compromise on privacy or daylight. These Select Two Fabric Top Down Bottom Up Blackout Cellular Shades allow you to switch from light-filtering to blackout in a snap.
The Advantages of Cellular Shades
Energy-Efficiency: Due to their unique honeycomb construction, these shades are the most energy-efficient shades you can get. If you have a drafty window, these shades are the perfect choice.
Versatility: Like rollers, the honeycomb collection offers a wide range of choices. Not only can you choose from various fabrics but just about any colour you can dream of is part of this collection.
Affordability: Honeycomb/cellular shades vary in price depending on the collection you choose, but there is something to suit every budget. You are sure to find what you need on our site.
Aesthetics: Cellular shades have a stylish finish. They come with a cordless lift system for maximum safety and a streamlined finish. Most of our honeycomb products can also be modernized with a motorized lift system or smart blinds system.
Which Shades Are Better?
The question isn't whether one product is better than another. Both products are durable, functional, practical, and stylish. The question is which product is best for you. When it comes to choosing window treatments, you first have to evaluate which product meets your needs.
For example, roller shades are fantastic, but if you have a drafty window that needs insulation, they may not be the best bet for you. If you prefer an understated window covering that is easy to use and blends in seamlessly with your home, then roller shades may be better for you. If your window gets too much sunlight that overheats your home in summer, solar roller shades may be the better choice for you.
When purchasing window treatments, the focus should always be on which products meet your needs in a given room. You can trust that any product you get from us will be durable and high-quality. We strive for 100% customer satisfaction! The secret to really being happy with your purchase is finding the products that work for your home.
Not sure which products to choose? Contact our team. We're always happy to help guide you in the right direction.