Privacy is a huge issue, particularly if you have nosy neighbours and large windows. Drapes and curtains can be a great solution but they don't fit every window or style. If you are looking for convenient ways to make your windows private without curtains, you've come to the right blog. Here are our favourite products and ideas for maximizing privacy.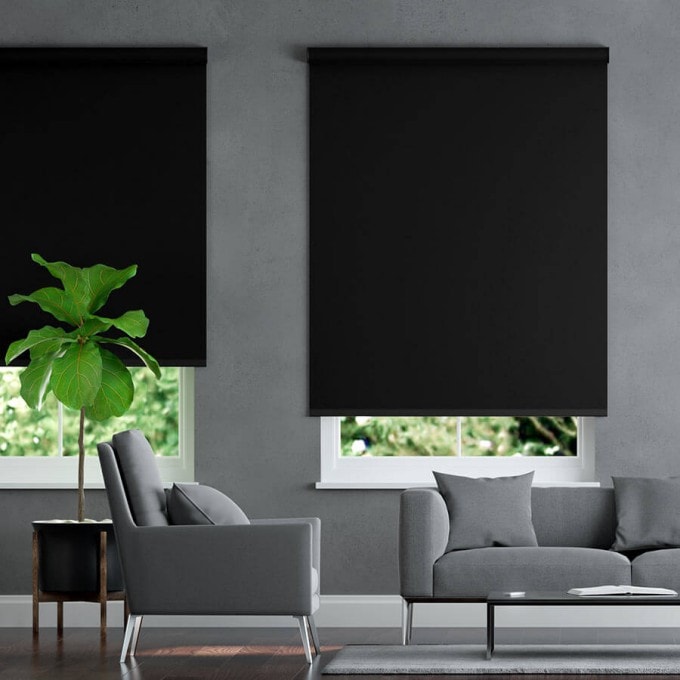 Choose Inside Mount and Outside Mount
Typically, you choose an inside or outside mount for your shades. But if you are looking for more privacy at times, then you can consider both. You can add a light-filtering shade inside the frame of the window to allow natural light to flow through.
Then you can layer with a blackout shade outside the window frame and pull it down only when you need it. It's the same concept as layering with drapes or curtains but it still offers the smooth, streamlined look you expect from shades.
Try Two-Fabric Top-Down Bottom-Up Shades
These shades are really the best of both worlds. They allow you to get the privacy you need, when you need it. You can go back and forth from light filtering to blackout/privacy control with a lift or pull. The top fabric of the shade is a light-filtering fabric so you can enjoy natural lighting when you want to.
When it's time to sleep or even if you just need a little more privacy, you can draw the shade up and the lower half of the fabric will provide the privacy you need. This truly is a 2-in-1 product that works the same as two individual shades. They're super popular right now and we absolutely love them!
Choose Privacy or Blackout Liners
Another way to add privacy to your windows without curtains is to choose a privacy or blackout liner to add to your shades. This will increase your level of privacy. A privacy liner will not allow others to see very much from the outside and a blackout will completely block any views from the inside or outside.
You can add a privacy or blackout liner to most of our window treatments. If you really had your heart set on bamboo shades in every room in your home, you can keep the same aesthetic throughout the home and simply add a liner for rooms that will need more privacy at times.
Go for Stylish Roman Shades
What people love most about roman shades if their fashion-forward look. They have the same elegant look as draperies but with a much more modern and sleek finish. These are great for providing privacy when you need it. You can choose light-filtering fabric for some privacy but you can also add a privacy liner or a blackout liner for even more privacy if needed in specific rooms.
Choose Panel Track Blinds for Patio Doors
For patio doors, panel track blinds can really work well and offer privacy, too. Vertical blinds can offer privacy, as well, but when they're shut, you can't see out. With panel track blinds, you can choose a light-filtering fabric that allows sunshine in and allows you to enjoy the view, while still providing some privacy, too.
Always Choose Custom Window Treatments
Getting ready-made products off the shelf may save you a buck, but they may not fit your window properly. If the blinds don't sit in the right place, they may not offer the privacy you were hoping for. Inside mount shades are made-to-measure and they fit inside your windows perfectly. This ensures the window treatment will function as intended.
What are some questions you have on your mind when it comes to privacy and window coverings? Ask away in the comments below. We're always happy to help guide you in the right direction and help you find the perfect window coverings for your home.