This is a big year for home renovations. Everyone is looking to renovate or spruce up their homes, which has driven up the costs of just about everything – from wood to labour. Luckily, we have a few tricks up our sleeves to help you redecorate and refresh your space without breaking the bank. Here are our best budget DIY spring décor tips.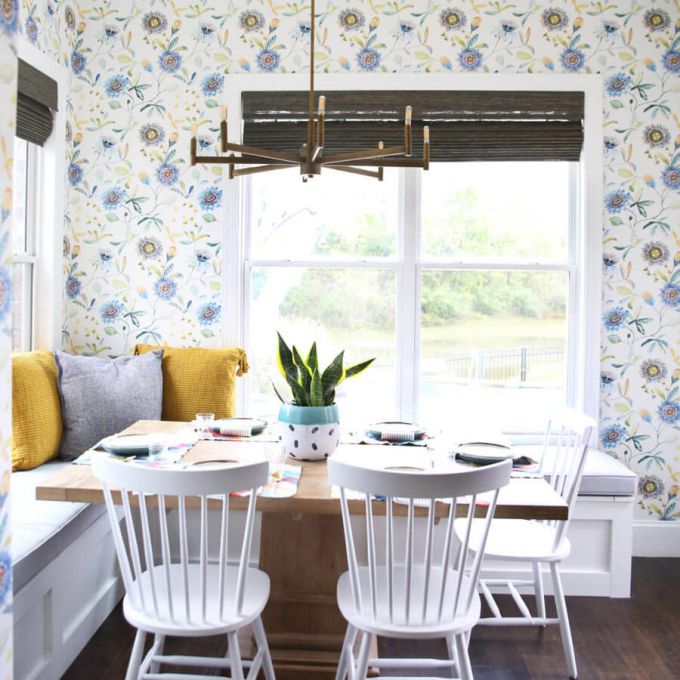 Photo Credit: @thehandmadehome
DIY Spring Décor Tips for the Win
If you're looking to revamp your space, you don't need to break down walls or reinvent the wheel. You'd be surprised how the slightest changes can make a huge difference. Keep it simple and you'll be amazed by how different your home looks with minimal investment.
1. Make an Accent Wall
Adding an accent wall can really make your room look different. You can either paint it a different colour yourself or add a piece of wallpaper to make it stand out. You can also choose to add picture frames or wall décor to make the wall stand out even more. This is a simple, affordable change you can easily DIY. It'll allow you to bring in some fresh new colours to shake things up.
2. Replace Throw Pillows and Blankets
Throwing a fresh set of throw pillows and a new throw blanket can really add character to your space. Try to incorporate some interesting textures and bright new colours to really change it up. Replacing throws is affordable and even a beginner DIYer can pull this off with ease. Plus, these DIY spring décor accents can also cover up old or worn furniture like a sofa with stains or rips.
3. Get New Blinds or Shades
This is a DIY tip that's easy to do when you choose products from Select Blinds Canada. We offer great pricing because we cut out the middle man. You can measure yourself and install on your own, even if you've never DIYed a thing in your life. New blinds or shades can add so much to a room and make your home feel like an entirely new place. Given the costs of full renovations – especially this year – a new blind can be the perfect compromise to satisfy both your style and your budget.
Add texture to your room with some intricately woven bamboo shades, or a touch of elegance with some folded Roman shades or even luxurious wood shutters.
4. Rearrange the Furniture
This budget DIY spring décor tip is one of the cheapest options because it literally won't cost you a dime. Moving the furniture into different placements can change your room up entirely. With all the time we've been spending at home this past year, it's only normal to crave some change after all this time. But changing things up and keeping it fresh doesn't have to cost you tons of money.
5. Make Storage Decorative
The hardest part about maintaining a household, especially with children, is keeping it clutter-free. The constant barrage of toys or trinkets around the house can make it feel smaller and messier. Storage space is usually tight for most people, especially if you have a large family. Instead of looking for ways to hide your clutter in a closet, look for storage solutions that can double as décor.
Think wicker baskets and floating shelves. You can keep your clutter confined to a small space but the storage box doesn't have to be hidden. In fact, adding a few pretty organizational baskets around the house can make it look even nicer. The only caveat here is that you will definitely need to reorganize and throw away the clutter you really don't need.
6. Add Paintings to the Wall
Canvas paintings can be really affordable if you shop at discount home décor retailers in your area. Adding a punch of colour to your neutral room can make it really come to life. The best part about this budget DIY spring décor tip is that it's easy to include and easy to remove. If you change your mind in a few months, just store it away for another time or another room. You won't feel bad about changing things like that up often since they don't cost much.
7. Shop for an Area Rug
An area rug is a fabulous way to add some depth and character to your room without breaking the bank. You can find really affordable rugs if you search for them. Try to find something with an eye-catching design, or even a unique texture to it. The smallest differences can make a room look entirely different.
Are you planning a mini spring refresh this year? What are some of your budget DIY spring décor tips?