Roman shades are an elegant window covering fit for nearly any home decor style and budget. You may have seen them on our website and in design magazines, but how much do you really know about roman shades? What makes them a great fit for your home? Read on to discover five reasons to buy roman shades.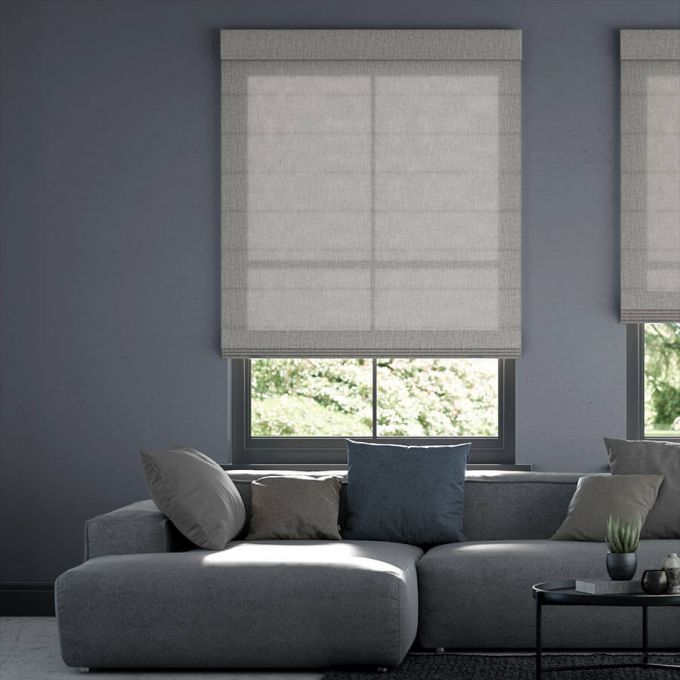 1. Roman Shades Add Style and Flair
According to Architectural Digest, roman shades are a perfect design choice thanks to their versatile nature. A mix of patterns and textures make roman shades stand out from the rest. They can liven up any space with a touch of colour that is somehow both understated and statement-worthy. No matter what your home decor style is, from modern to rustic, roman shades can slip into your design effortlessly. Choose from various patterns, prints, or even fabrics to enhance to look of your space.
2. Light and Privacy Control
Roman shades come in various fabric options and we also offer different liners to make them the right fit for different rooms. Looking to create a home theatre? Add a blackout liner. Looking to let in plenty of sunshine in the den? Skip the liner altogether. You can also adjust the shades to maximize or minimize privacy any time you need it. You can choose a cordless lift for manual operation or upgrade to a motorized or smart blinds system to operate your roman shades remotely.
3. A Modern Twist on Drapes
There's no doubt that drapes and curtains add a glamorous and elegant twist to any room. But we also know that not every room has the space available to accommodate custom draperies. Roman shades give that same glamorous look without taking up nearly as much space. You can go with an inside mount to take up as little space as possible and still maintain the elegant feel you want. Choosing a soft fold finish over flat fold will add a little more depth and sophistication to the room.
4. No Tool Options
Most of our roman shades can be customized with a No Tools Installation headrail. Not only does it make installation even faster, but it is an ideal solution for anyone who doesn't want to or isn't allowed to make holes in the window frames due to rental agreements. You can still get the upscale look you want in your rental space with this headrail. Plus, it really is a snap to install. Not a single tool is required.
5. Roman Shades are Timeless
When you invest in window coverings, you don't want them to be out of style in a year or two. Your investment should last as long as you need it to and with their timeless style and elegance, you won't regret your purchase down the road. The look, style, and the fabrics offer a classic look that is sure to look fabulous in your space for years to come.
What Are the Pros and Cons of Roman Shades?
Whenever you're researching an important element in your home, you want to evaluate everything — including the pros and the cons. Here is a quick overview of the pros and cons of roman shades:
Pros
Elegant
Versatile
Timeless
Practical
Space-saving
Cons
Delicate fabrics that can stain
More effort to clean
Because roman shades are made of exquisite fabrics, it's important to keep in mind that they can stain. Unlike vinyl, they don't wipe clean. You'll have to spot-treat stains with stain remover to get them out. Because the fabric is delicate, we recommend avoiding roman shades in areas that get a lot of traffic like the kitchen. Avoid placing roman shades over the kitchen sink or near the cooking area. In other rooms, like the dining room or living room, they are much less likely to be exposed to staining.
Another drawback is that the fabric doesn't wipe clean with a damp cloth. You will have to gently vacuum the fabric to prevent dust buildup. This can be a drawback for some people, but if you don't mind the tiny bit of extra effort, you'll find it's worth it for the stunning look your roman shades will give to your home.