Have you been browsing our blinds and shades? If so, you probably already know that we have loads of options. So how can you go about choosing the right window coverings for your home? The truth is, you may very well need a mix of different types of shades. Read on to find out what types of blinds are the best for different rooms.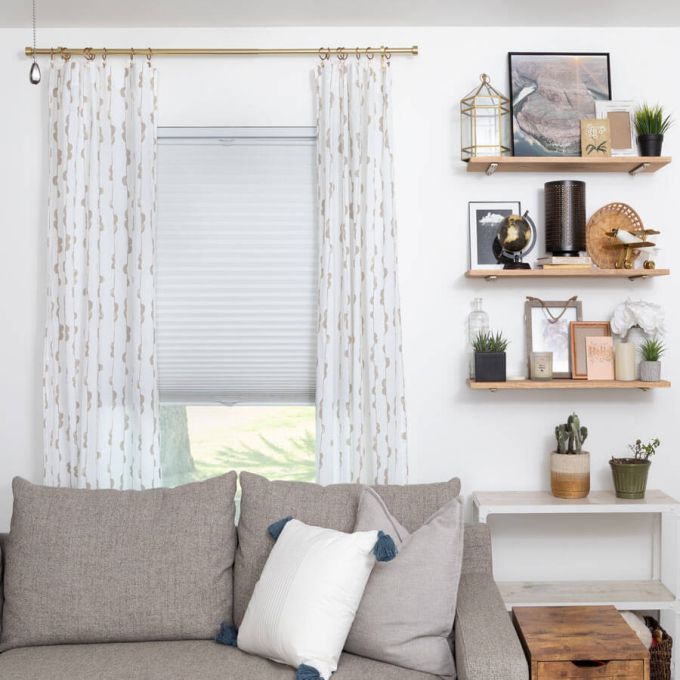 Best Blinds for the Living Room
The living room is normally the first thing anyone sees when they walk into your home. The decor in the living room often sets the tone for the rest of the home. To really brighten up your space, we recommend going for a light-filtering shade or blind. This can add plenty of natural sunlight to your room and brighten your entire home.
If you feel as though you may sometimes want privacy, you can go for anything with horizontal slats. This can range from something as simple as faux wood blinds to something more elegant, like sheer or zebra shades. These are all very easy to use so you can adjust your light and privacy settings any way you wish throughout the day or evening. If you have a television that is facing a window, then we would encourage you to take a look at solar shades. They can cut glare and UV rays so you can watch TV uninterrupted.
When looking for what types of blinds are best for different rooms, you should consider your needs in each room. You want your window coverings to look stylish, of course. But they also need to be functional for you.
Best Blinds for the Dining Room
The dining room is usually the fanciest room in the home – especially if it is one you don't use every day. In this room, look for something that is elegant and offers a higher-end feel. We recommend roman shades or woven shades if you're looking for something that can really add the wow factor to your room. If you have a more modern style and are looking for something to match your Scandinavian-style room, elegant sheer shades or fabric roller shades can also work very nicely.
Privacy is usually not a huge concern for most people in this area of the house. We would recommend light filtering shades that will allow plenty of natural sunlight in during the day. Whatever you choose, go for something that is statement-worthy if this is the main entertaining spot in your home.
Best Blinds for the Kitchen
The kitchen is one of the most fun rooms to decorate and design. But keep in mind that functionality should remain top of mind here. The kitchen is a room that creates a ton of humidity and stains are just part of the everyday process. We would advise against something made with a delicate fabric here because it may be tough to clean.
Wood can be suitable for the kitchen in some cases. You can go with plantation shutters but they shouldn't be placed too close to the stove. The heat can eventually warp the wood over time. One of the best types of blinds for the kitchen is faux wood blinds. They won't bend or warp and they are so easy to clean. Just wipe them down with a damp cloth and voilà.
Best Blinds for the Bathroom
In a full bathroom, you may want something water-resistant like faux wood or vinyl rollers. If it's a powder room with no shower, then you can go for real wood or even delicate fabrics. Another thing to consider is privacy. Top-down bottom-up honeycomb shades are really practical for the bathroom because you can let in some light without giving up privacy. If your bathroom is visible to your neighbours, then this feature can be very helpful for you.
Best Blinds for the Bedrooms
In bedrooms and nurseries, we highly recommend blackout blinds or shades. Keeping early morning rays out can help you and your children sleep in longer. Studies have shown that blackout blinds do offer better sleeping conditions and can also help with insomnia. If you want to make sure that not even a stitch of light gets in, we suggest choosing outside mount shades instead of inside mount. You can also go for night and day shades if you want to be able to switch from light filtering to blackout in a flash.
Best Blinds for Your Home Office
Solar shades are our top choice for home offices. They cut glare and UV rays so you can let in natural sunlight without the glare on your device screens. Solar shades can also keep the room from heating up when the sun is out all day. They allow you to see out but people outside can't see in, so you do have privacy while you work and enjoy the sunshine.
When To Add Drapes into the Mix
Curtains and drapes can work well in rooms where you want to add a little something extra. Layering drapes over blinds or shades can add an extra element of depth – particularly in a monochromatic, neutral room. But they can also add functionality. If you want blackout in your bedroom but not all the time, you can easily choose light filtering shades and layer them with blackout drapes for nighttime (or vice versa).
How to Shop for Your Needs
When deciding what are the best types of blinds for different rooms, you should also consider your individual needs. For example, do you need to improve your home's energy efficiency? If so, then you may want to browse honeycomb shades. They can help reduce your energy costs all year round. Are your blinds hard to reach? Then you may want to consider a motorized lift system for simplicity and convenience.
The best way to go about it is to make a list of needs and wants in each room. You can start with our tips for the best types of blinds for different rooms and then narrow them down even further based on the functionality you need. Remember, the best blinds not only look great, but they fit your needs and your budget, too. Our blinds are highly customizable so we have no doubt you'll find what you're looking for. Need some help? Just ask us! We're always ready to help you get started.