Are you searching for new shades but don't quite know where to begin? Roller shades are one of our most popular categories but for newbie shoppers, it can be a tad overwhelming. Keep reading this guide to understanding roller shades so you can learn all about what different options mean and find the roller shades that work best for your home and your needs!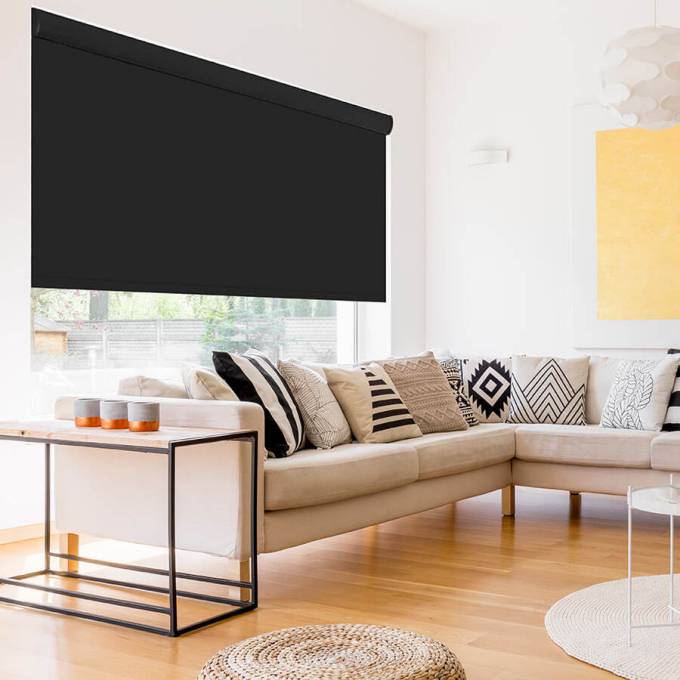 How Do Roller Shades Work?
Roller shades are exactly what they sound like. It's a solid piece of material that rolls up and down to cover or expose the window. The material is wound around a hollow tube with brackets on the side to hold the roll in place. You can mount your roller shades inside your window frame or outside the frame. This should be specified when you are entering your order into our website.
Should I Choose an Exposed Roll or a Valance Insert?
When selecting your roller shades, you'll have to decide whether you want the roll to be exposed, or if you would like to cover the roll with a valance or cassette to offer a more streamlined finish. If you are planning to cover the roller shades with drapery, you may want to go with an exposed roll. If you plan to make your roller shades stand out, then a nice valance will make them look a lot nicer and sleeker.
Which Hemline is Best?
Some of our roller shades come with the option to choose a plain, waved, rounded, or scalloped hemline. This is strictly aesthetic, so your choice should be based on your style and tastes. It doesn't actually make a difference in your daily use of the shade. We offer images of the various hemlines so you can choose the one that works for you.
What is a Light Gap?
On our blackout rollers (as well as other blackout products) you'll notice a note in the description explaining the light gap. If you choose inside mount, there is usually a gap of about ¾" on either side. The material can't brush up against the side of your window frame when you lift or release them or the material would fray. To keep your blinds intact, there is a gap on either side of the roller shade.
If you don't want any light coming through and don't plan to layer with drapes, you should consider choosing outside mount instead of inside mount. This will ensure no light from the outside gets in.
Fabric or Vinyl?
Fabric is definitely the trendier choice. The fabric selections will make your roller shades statement-worthy. They just have a more luxurious look and feel. However, vinyl is sometimes just more practical. If you plan to keep your roller shades in a high-traffic area where they will be likely to get dirty, then you should definitely choose vinyl over fabric. They're a real cinch to clean and won't stain like fabric might.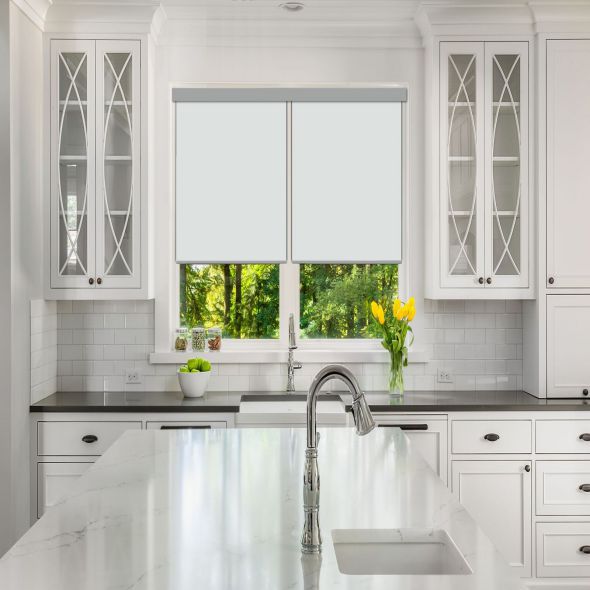 When Should I Go with "2 Blinds on 1 Headrail"?
This option works very well if you have a very wide window. It breaks up the wide window covering to give it a little more style. It also puts less stress on the shade itself. The weight is more evenly distributed so your shades may last longer this way.
If you're planning to order new roller shades, here are the steps we recommend following to ensure you are beyond satisfied with your order:
Decide on inside mount or outside mount
Read the measuring guide and measure for the correct mount type
Choose the fabrics you like and order free samples
Decide whether blackout or light filtering is best for your needs
Choose the lift system that works for your needs and your budget
Choose between the exposed roll or the cassette upgrade
Once you have figured out everything you want out of your new roller shades, you're ready to place your order. Remember, we're always here to help. If you have any questions about our roller shades – or any other products – contact us anytime to ask questions. We want you to love your new shades so we are always happy to help.
Do you have any questions about roller shades? Ask us below in the comments!