Choosing the right window treatments for your home is a huge decision. With so many options to choose from and factors to consider, it's no easy task. If you're not sure which products to choose, keep reading to find out why you just may want to invest in roller shades. Here are the top reasons why roller shades are always a good idea in our book.

1. Roller Shades Come in Every Colour You Can Imagine
Ok, well maybe not every single colour, but options like our Designer Fabric Roller Shades come in over 75 colours and fabrics. No matter what the style or colour scheme of your room is, you're sure to find the right shade in this collection. So it's safe to say our roller shades are one of the most versatile window treatments you can buy.
2. Roller Shades Are Practical
Looks aside, we know the practicality of your window treatments is very important. They have to be just as useful and durable as they are stylish. Our roller shades come with a variety of lift systems, including cordless and motorized. They're even compatible with our new NEO Smart Controller System – the ultimate in convenience.
3. They're Budget-Friendly and Chic
Interior designers often turn to roller shades to revamp their window projects without going way over budget. They offer a clean look, are easy to mount, and come with a matching valance for a neat finish. They work really well in windows that aren't detailed with trims or casings. Plus, they come in so many shades and textures, that it's easy to find the perfect match at a wallet-friendly price. They're as chic as Roman Shades but are much more affordable.
4. Roller Shades are Easy to Clean
As far as window treatments go, roller shades are definitely a cinch to clean. They're easy to remove and don't have any folds. This makes it really simple to wipe down vinyl rollers. Fabric rollers may need spot cleaning, but you can easily remove them from the bracket and lay them flat to clean. Anything that can make our day-to-day lives easier is always a win.
5. You Can Customize Light Control
We also offer Solar Roller Shades. This means you can choose fabrics with openness that lets in as little or as much light as you like. You can opt for blackout rollers in rooms where you need total darkness at night, or choose a SheerWeave fabric in the living room. These fabrics block harmful UV rays but still let in some light. You can also choose to keep your blackout rollers rolled up during the day to maximize your gorgeous windows and simply roll down at night to switch to total darkness.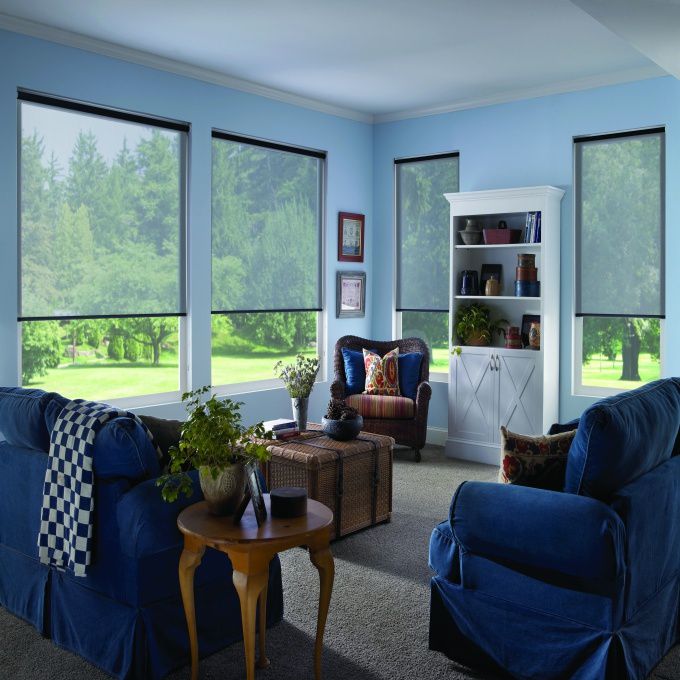 You can also add a privacy liner to your roller shades. There's definitely a combination for your needs available. Our blackout rollers are also energy efficient, so you can expect to save on your energy bills with these, too.
Choosing a product can be tough. Luckily, we've just given you the best reasons for narrowing down your product search. Next step? Choosing a colour and fabric. You can order up to 12 free samples before you place your order so you can see our fabrics and shades in person before placing your complete order. Plus, we're always here to help. Post your questions below or contact us on social media if you need some help choosing your window treatments.