Are you considering roller shades but aren't quite sure how you'll install them on your own? When we say DIYing your own custom shades is a cinch, we really mean it. Here is a step-by-step guide to understanding more about our roller shades collection and how to install them on your own – like a pro!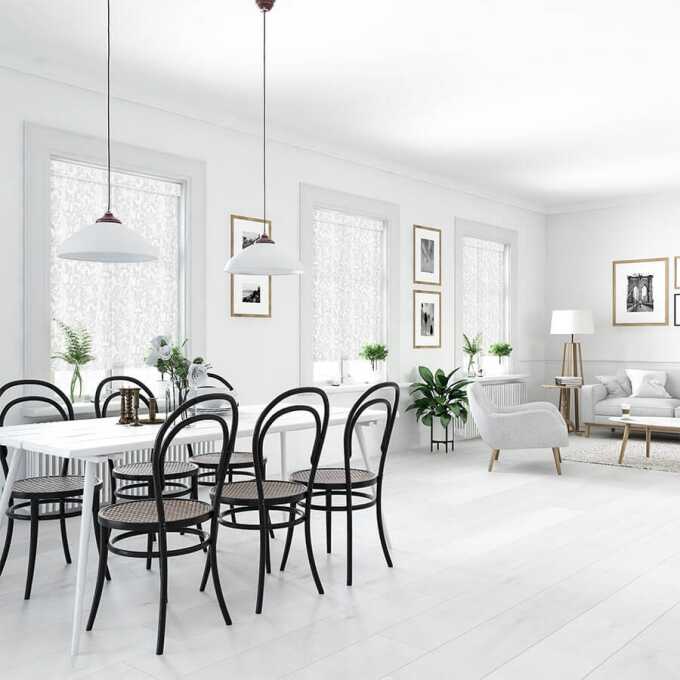 Why Should I Get Roller Shades?
Roller shades are one of the most versatile window treatments on the market. They come in a wide range of fabrics and finishes and there are so many colour choices. From solids to patterns, roller shades offer something for everyone. Plus, they can be customized with a cordless lift system, motorized, or even our smart blinds system for the ultimate in convenience.
Roller shades can be light-filtering or blackout. You can even shop our solar roller shades to block glare and harmful UV rays. When it comes to customization, roller shades are always a perfect fit. You can choose an inside mount to show off your window mouldings. If you prefer blackout, we recommend choosing shades that are outside mount instead.
Inside mount shades do have a small deduction on either side to prevent the fabric from fraying. This can result in a slight light gap all around. If you prefer complete blackout, outside mount is your best bet.
How to Install Roller Shades on Your Own
If you know our company, you know we highly recommend a DIY approach. You can still hire a professional in your area if you prefer to have someone measure and install for you – no judgment here. But we really do recommend DIY because it is very simple and we know you can do it. Even if you have never touched a screwdriver in your life, you can still do this. Here is a breakdown of how to install roller shades:
Start by reading the right instructions. Inside mount and outside mount roller shades have different instructions to follow.
Read the instructions fully before you get started.
Do not skip any steps and do not improvise.
Position the blind and fix the brackets into place with a drill.
Push the blind into the brackets until the mechanism clicks.
And there you have it. Yes, that's it! Be sure to never force your blinds into place. If something isn't gliding in smoothly, reread your instructions to make sure you're on the right track. Or call our customer service team for help. If by some odd chance you have a damaged product, we'll replace it for you right away.
Here's a quick video that shows you just how simple it really is to install roller shades on your own.

Have any questions about product installation? Ask us in the comments below. We're always happy to help.