Once upon a time, everyone had vertical blinds for patio doors – everyone! Not only are today's vertical blinds way nicer and more versatile than the ones of the past, but there are several other options that work perfectly for patio doors, as well. Read on to find out how to choose window coverings for your patio doors.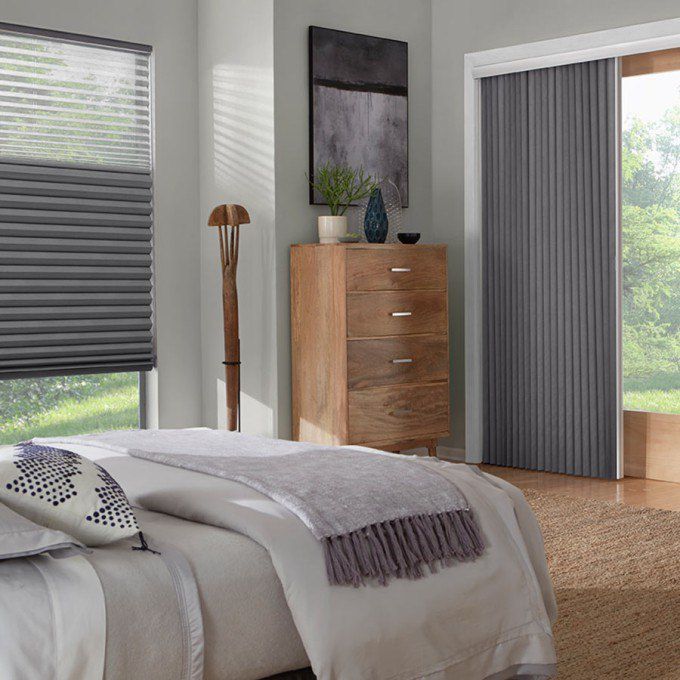 How Do You Dress a Patio Door Window?
There are several different types of window coverings you can try for your patio doors. So, how do you choose window treatments for patio doors?  Here is the rundown of the top treatments we recommend for patio doors:
Vertical Blinds
Honeycomb Shades
Roller Shades
Faux Wood and Wood Blinds
Wood Shutters
Panel Track Blinds
Drapes
These are the most practical options that allow for super quick and easy access to your patio door, while still offering a trendy and stylish finish. You can also choose blackout options for ultimate privacy and 100% light blockage (which is particularly useful if you have patio doors to a balcony in your master bedroom).
What Are the Best Blinds for Patio Doors?
This is a question we get often: which blinds are the best – the real best? The truth is that all of our products are high quality so you won't be disappointed in that respect, but the real way to select the best blinds is to choose the ones that fit your needs, style, and budget.
Honeycomb shades can be great for patio doors, but if all of your other blinds are wood or faux wood, it may not be the best choice for you. The right choice will meet these needs:
Match with your décor
Be easy to use
Have the light and privacy control options you need
Come with the lift system you want (corded, cordless, motorized, etc.)
Fit into your budget
We have a wide range of amazing window coverings, but the only way to get the best one for you is to take your time and evaluate which options are most important to you. Even our top-selling window treatments won't please you if they don't fit your individual needs.
We recommend ordering free samples of all the products you're interested in. This way, you can see and feel the fabrics before you place your order. Then, you can reach out to us on our Live Chat, by phone, or by email to ask us for help in choosing the right product for your patio doors. Our customer service agents have all the details you need and can help you narrow down your search.
How Do You Choose Curtains for Sliding Glass Doors?
You can also choose drapes for your sliding glass doors, either as a layered window treatment or a stand-alone option. When choosing drapes, you should verify a few details first to ensure you will be satisfied with the product:
Check the space on each side: If you don't have any wall space on the side of your patio door frame, you may not want to go with drapes. They will collect on either side and without any extra space, they will cover a portion of your door, blocking your view of the outside.
Check the space above the frame: Drapes look best when they are hung at least 2" to 4" above the frame of a window or door frame. Ensure you have that space available before you go ahead and place your order.
Determine the light and privacy control you need: Before you purchase your patio door drapes, be sure to assess whether or not you want them to have a blackout or privacy liner. These liners will affect the amount of light coming through the drapes, even when they are open.
Determine the length you like most: Do you want your drapes to hit right above the floor (generally a ½" above) or do you prefer for them to be slightly longer so they can pool at the bottom? Be sure to check images online to see which style you like best and measure accordingly.
How to Shop for the Right Window Treatments for Any Window
No matter which type of window treatment you're shopping for, there are a few tips we recommend customers keep in mind to ensure they get the best product every single time:
Watch our Measuring Guide and get your exact measurements and ensure a perfect fit
Read the Product Specifications and Limitations to ensure the product you have selected will work for you
Order free samples
When in doubt, contact us and ask questions first
Make a priority list of what you want most in your shades (privacy, light control, and lift system)
Read the product details to ensure you understand how the different lift systems work
Read our Installation Guide to ensure you get your blinds in quickly and easily
If by some chance you experience any issues with measuring, ordering, installation or anything else, contact us right away so we can help
What are your favourite window treatment styles for patio doors and sliding doors?