The coastal decor trend hinges on natural textures and materials to bring a taste of sandy beaches and ocean life into your home. To turn your space into a beach house-style home with some serious vacation vibes, keep reading. Here are our top tips for achieving the coastal décor trend yourself.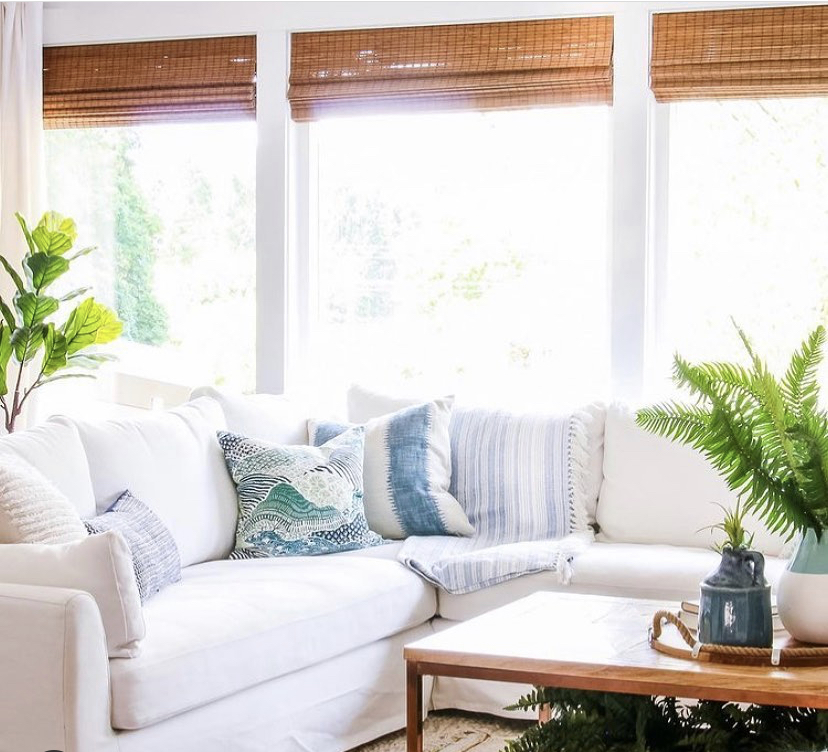 Credit: The Happy Housie
What is the Coastal Décor Trend?
The coastal décor trend brings in anything and everything that reminds you of white sandy beaches, ocean waves, and a relaxed, beach lifestyle. Natural textures, modern finishes, and hints of ocean blue shades on a white backdrop make this trend really pop. The coastal trend aims to make the room feel natural, light, and airy as a day by the seaside.
Letting in lots of light and adding items that brighten the space and open up the room are always favoured. You're trying to bring home that free, breezy feeling you get by the water's edge right into your living room. Here are a few design tips to bringing that natural feeling indoors, no matter how far inward you actually live.
1. Incorporate Coastal Colours
Light blue, sea green, bleached white and sandy beiges are some perfect examples of coastal décor shades that bring the whole look together. Neutral tones like bleached whites and beiges are good to use as base colours. That means most of your décor will fall into these colour families. Choose blue and green shades as accent colours to make the room pop rather than going all-out green everywhere!
Be sure to select green and blue hues in a lighter shade for larger things. For example, the walls should be a muted shade with only a light hint of green or blue. Reserve deep hues for accent pieces and throw pillows instead.
2. Choose Natural Textures and Finishes
Naturally woven textures, like the fabric of our Designer Coastal Shades, add the outdoor feel to your coastal decor trend. Think jute, bamboo and woven materials for pieces like blankets, decorative baskets, and other accents. The natural texture will bring that outdoor feeling inside your home by giving it just a hint of the beauty you'd normally find by the seaside.
3. Add Some Coastal-Inspired Motifs
Choosing ocean-inspired designs for canvases, throw pillows, and wall art can add that instant coastal feel to the room. A starfish painting, a nautical pillow design, or a seashell centrepiece can really make the room feel like you just came in from a day at the beach. The whole idea behind the coastal décor trend is to make your home remind you of everything you love about white sandy beaches, momentarily transporting you to that moment in your mind when you walk into the room.
4. Let the Sunshine In
It just isn't a day at the beach without some bright sunshine coming through. Anything you can do to make the room look and feel brighter is helpful in creating a coastal ambience. Opt for light-filtering shades to let the light shine in and light walls and carpets to brighten it up even further. Maximize the natural lighting you get into the room by rolling up your shades during the day. Whenever possible, keep the space clutter-free and favour an open concept.
5. Minimize
The beauty of the coastal décor trend comes from its simplistic nature. You really want to focus on a few statement pieces rather than a bunch of tiny accents. The neater and cleaner the design, the more of a beach house-style vibe you'll be able to create. Minimalist style and understated chic are the key concepts to keep in mind after natural elements.
Do you like the coastal décor trend? What is your favourite part of this design concept?