Decorating your home doesn't have to be damaging to the environment. We offer several eco-friendly window coverings to help minimize your carbon footprint and reduce waste. If you're looking for ways to make your home a more environmentally-friendly space, here are the best eco-friendly window coverings to make your home as stylish as it is green.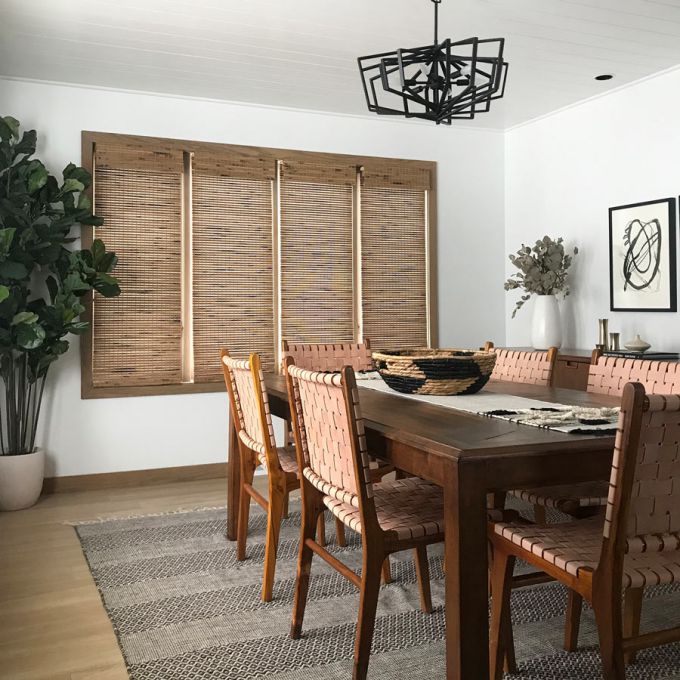 Why Should I Choose Eco-Friendly Window Coverings?
We know – eco-friendly window coverings aren't going to save the world alone. But anything we can do to help reduce consumption and waste is a step in the right direction. Energy efficiency and eco-friendly products are the first steps to making your home a greener place. If everyone does their part, we can start to really see a difference. If environmentally-friendly products are important to you, then you may want to consider shopping for these window coverings:
Bamboo/Woven Wood Shades
Our bamboo shades are actually made from real bamboo and jute. By using natural materials versus synthetic ones, our shades not only look great, but they double as eco-friendly window coverings, as well. The natural materials used in our bamboo shades decompose much quicker and easier than synthetic materials. Our durable shades will last for years to come. But when you do decide to eventually change up your look, your woven shades won't take up more space in a landfill for the next 100 years.
Aluminum Mini Blinds
Our aluminum blinds are another eco-friendly window covering option. They are made for recycled materials in an effort to reduce waste. Aluminum blinds make use of materials that don't decompose well. Instead of tossing them into a landfill, we repurpose the material to create exceptionally durable and stylish blinds. Plus, mini blinds are among the most cost-efficient on the market. So not only will you be doing your part to help the planet, but you'll also be saving yourself money.
Solar Shades
By blocking out glare and UV rays, our solar shades also keep excess heat out. That means if you have a very sunny room, you won't be constantly cranking up the AC to keep it cool. Using up less energy to cool your home will reduce your energy bills and help reduce pollution. Bonus: our solar shades also block out UV rays that are damaging to your skin, as well as your furniture, flooring, and carpeting. Solar shades will keep your investments from yellowing or fading by keeping the sun's harsh rays at bay.
Honeycomb/Cellular Shades
If you're looking for some serious reductions in energy consumptions, our Honeycomb collection is the right place to start. Because of their unique cellular design, they actually trap air inside. That means that cold air won't get out or in. If you have a drafty window, these shades can help. By trapping air inside, the inside temperature won't escape and the outside temperature can't get in. This can reduce your energy bills all year round.
Are you interested in making your home more environmentally friendly? What are some of your secrets to doing your part to save the planet?