Did you know that outdoor shades can help provide you with privacy and block harmful UV rays while you're outdoors this summer? Read more to find out what you need to know to make sure you get the best patio shades for your outdoor project this summer.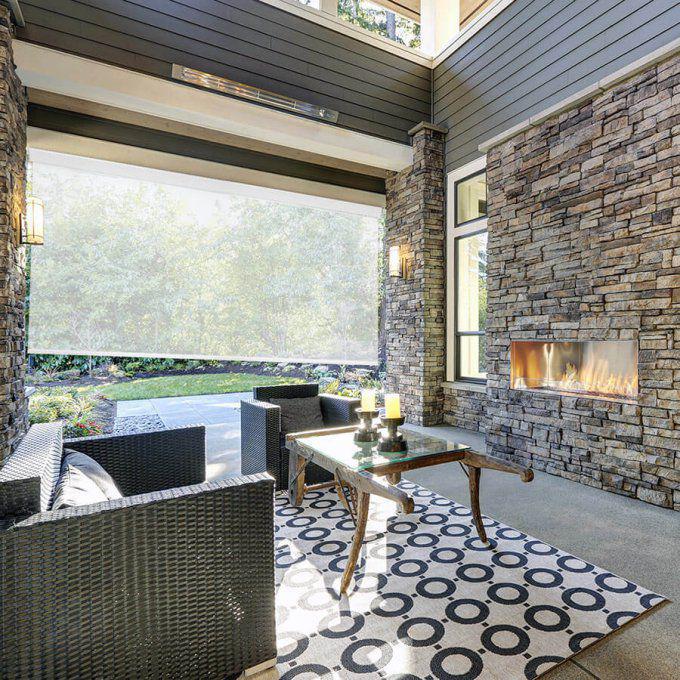 The Benefits of Patio Shades
Spring is in the air and that means it's the perfect time of year to start planning your summer patio look. With another quiet summer on the way, we'll all be spending tons of time at home so there's no better time to spruce up the yard. If you're planning on setting up your very own happy place in your yard, you'll definitely want to consider investing in outdoor shades. Here are a few reasons outdoor shades should be a big part of your patio design plans:
They block out harmful UV rays so you can enjoy your time outdoors without damaging your skin.
You can choose from different levels of openness (ranging from 1%, least open, to 14% most open) to let in more or less light based on your preferences. (More about openness below!)
Outdoor shades keep your patio cooler by blocking out UV rays, making it more comfortable to sit outside even on a scorching afternoon.
They're made of rust-proof and weather-resistant materials so they won't get damaged.
They have an option to add a bungee cord so you can lock them down and not have to worry about them running off with the wind.
They still diffuse plenty of light while cutting glare and blocking UV rays, making them perfect for setting up an outdoor home office in your yard this summer.
Patio Shades Can Survive the Weather
A huge concern with patio shades is that they may break or tear easily when faced with bad weather. Rust is also a concern among consumers. Our outdoor shades are weather-resistant and rust-proof so you can be sure your investment is going to last.
We recommend adding the bungee cord option if you can. This can help keep the shades firmly in place so if there is a sudden gust of wind, your shades won't fly around and risk getting damaged. The bungee cord will tightly secure your patio shades in place and protect them from unnecessary wear.
How to Find the Best Patio Shades
To make sure you end up with the best patio shades, start by evaluating your needs. Do you get tons of light that needs to be blocked fully? Or do you just have some light at that angle of your yard and need moderate UV blockage? The key to getting the best outdoor shades is to make sure you find the openness level that works for your needs.
The next thing you'll want to consider is the colour. Our patio shades come in a variety of tones from neutral hues to black. You're sure to find the right colour for your yard. The darker the material, the darker your enclosure will be so you should consider that as well. Choose a colour that contrasts slightly with its surroundings to make it work into your decor smoothly.
What Does Openness Level Mean?
When the openness level is low, it means it blocks more UV rays and allows less light to filter through. A shade with 1% openness blocks 99% of UV rays. A product with 14% openness blocks 86% of UV rays and allows more light to filter through. All outdoor shades will allow at least some light to filter through but you can choose the openness level that works for your needs and preferences.
Choosing a lower openness will not only help you to reduce glare and heat but can also protect your patio furniture or outdoor rugs. The sun's UV rays can discolour these things, especially if they are a very dark colour. Blocking UV rays will protect your brand new rattan lounge collection from discolouring. This another element to consider when purchasing your patio shades.
Are you considering outdoor shades for your patio project this spring? What are the spring renovation plans on your to-do list this year? Ask us anything about our products below if you're considering adding any to your project plans. We're always happy to help.