If you're looking for new window blinds or window shades for your bathroom renovation project, you're in the right place! Keep reading to find out everything you need to know about choosing the right blinds for the bathroom. From design to materials, we can help. Read on for our tips on buying the best blinds for bathroom windows.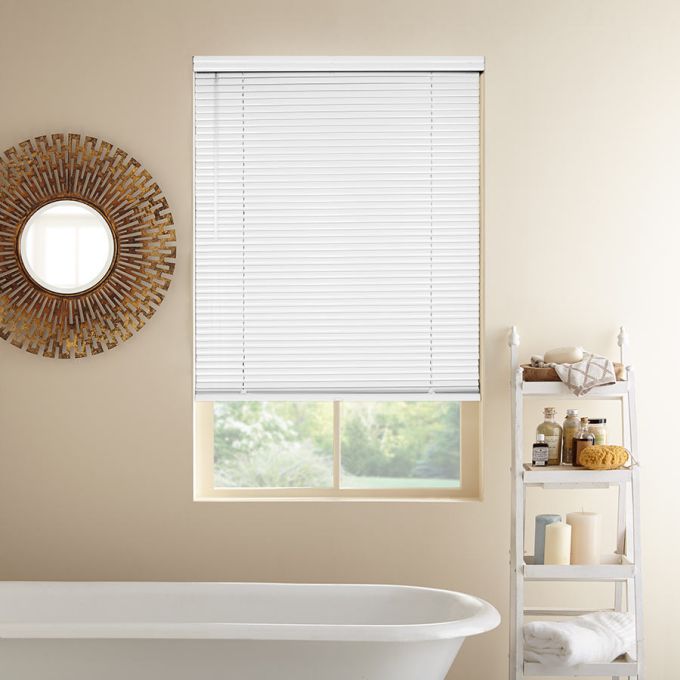 Bathroom Window Blinds Buying Tips
Are you planning a DIY bathroom renovation project? You need to consider a few things when looking for window coverings for your bathroom windows. Here are a few things to consider when shopping for the best blinds for bathroom windows:
Material
Privacy
Light Control
Functionality
Colour
Material
The first thing to consider is humidity. If your blinds are going into a powder room bathroom, this likely won't be an issue. But if the bathroom has a shower or bath, excessive humidity can be a problem. It can damage the blinds if you get a product that isn't water-resistant. Avoid wood products because they can retain moisture and slowly warp over time. You should also try to avoid sheer shades and fabrics as they will also retain moisture and could become susceptible to mould.
Privacy
You may want to avoid something like solar shades in the bathroom because when you switch the light on at night, they work in the reverse way. That means people can see in and you would be giving up your privacy. Instead, choose something that offers privacy.
Light Control
You probably want some natural light in your bathroom so light filtering fabrics are best for you. Blackout shades will give you maximum privacy but no light will enter the space. Instead, choose something that allows you to enjoy natural light without sacrificing privacy.
Functionality
Your shades have to be functional in the space. If you choose blinds with a cord, but the blinds are hard to reach, they aren't very functional. Consider your space. If you can't physically reach the shades easily – for example, skylight shades or blinds over the bathtub – then upgrade to a motorized lift system for simplicity.
Colour
You also want to consider colour. If your window is very close to a sink, you may not want to opt for something very light – especially if you have young children.
The Best Blinds for Bathroom Windows
Once you have considered all of the above, you're ready to make your selection. Still need a little help? No problem! Here are our top product recommendations for the bathroom: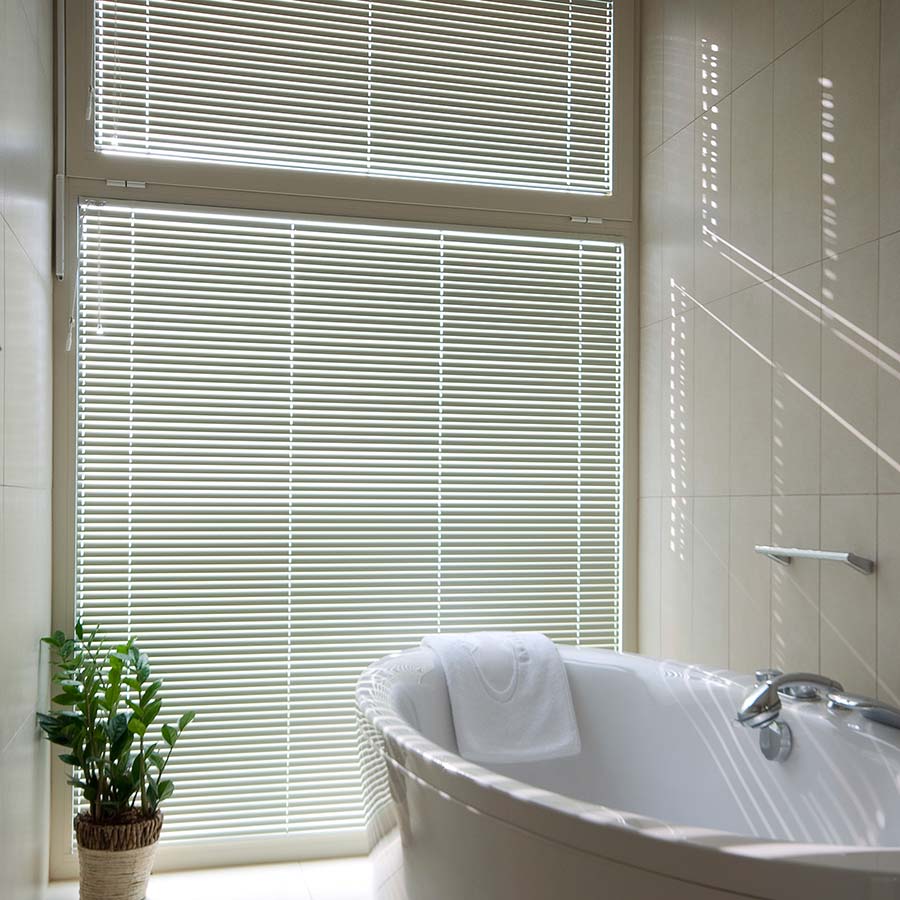 Faux Wood Blinds and Aluminum Mini Blinds
These durable and affordable options are both water and humidity-resistant. That means they won't warp or bend due to excess moisture. They're also very practical and make it simple to control both light and privacy, as well.
Top-Down Bottom-Up Honeycomb Shades
This unique lift system allows light to come into the room by lowering the top, preserving your privacy. These are very practical for a room where you may want to maximize light without giving u your privacy. Plus, light filtering options allow light to flow through, as well.
Motorized Shades
We highly recommend adding a motorized lift system to your bathroom window treatments. This can make them very simple to operate, particularly if they're in a hard-to-reach spot. Plus, they minimize the wear and tear on your shades, which can lengthen their life span.
What to Avoid
For the bathroom windows, we recommend avoiding fabrics shades as they can retain moisture and develop mould. You should also steer clear of light-coloured shades because they can stain easily if you have them located near a sink.
Which of our suggestions do you think are the best blinds for bathroom windows?