Vertical blinds are certainly one of the more classic and traditional window treatments on the market. But trust us when we say today's vertical blinds ain't your grandma's vertical blinds! They're a timeless window treatment simply because they remain practical and convenient. While the concept remains the same, vertical blind materials have come a long way. So, are vertical blinds still in style? Yes! Read on to find out why.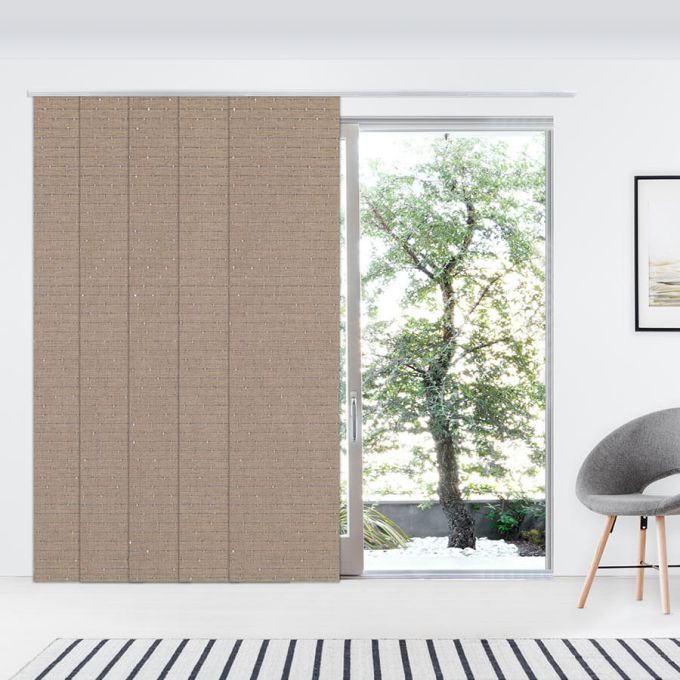 Vertical Blinds from the 80s
Ok, so we need you to get the idea you have of vertical blinds from the 1980s right out of your mind. Today's vertical blinds are nothing like the ones of the past. The design may be the same but today, you can choose from luxurious fabrics, trendy hues, and expect even smoother operation.
Remember when your vertical blinds kept getting caught and the metal cord would jam? Those problems are things of the past. Made with high-quality craftsmanship and more modern materials, our vertical blinds are trendier than they've ever been.
Are Vertical Blinds Useful?
Part of the reason they have remained a top seller for decades is because they are so very practical. You can adjust light and privacy settings so easily and they are a really convenient window treatment for a patio door. They stack to one side quickly, so you can access your patio door. If you're looking for an oversized window treatment or a patio or sliding door treatment, vertical blinds are very likely to be one of the most convenient and useful products you can choose.
Are Vertical Blinds Stylish?
If you think about the plastic panels you had when you were a kid, you may be turned off vertical blinds completely. But we promise we've come a long way since then. Our Designer Fabric Vertical Blinds offer a luxurious finish and a wide range of gorgeous colours to choose from. With a matching valance, these can be a very stylish addition to your home.
We also offer Panel Track Blinds which offer a slightly more modern look. Each large panel slides back and forth with ease, making it super simple to adjust light and privacy. You can choose solar shade fabrics that range from light filtering to near blackout.
We also offer a new variation on vertical shades: Cellular Blinds. These vertical blinds offer an energy-efficient bonus. They help trap air inside so warm air doesn't escape in the winter (or AC in the summer) and the outdoor chills won't get in either. If you have a slightly drafty back door, this window treatment can help minimize your energy costs.
Are Vertical Blinds in Style?
Yes, vertical blinds are still an ever-popular choice among consumers. Not only are they practical, but there are way more options to choose from today than ever before. You can still find a gorgeous fabric and the perfect hue to go with your home décor project in the vertical blind family.
Have you given our current vertical blind models a chance yet? Which ones are your favourites?