When it comes to choosing window treatments, this is a question we see a lot. Which one is better? The truth is, they're both completely different! Read more to find out when blinds work better, when drapes are the right choice, and when a combination of the two is the perfect fit!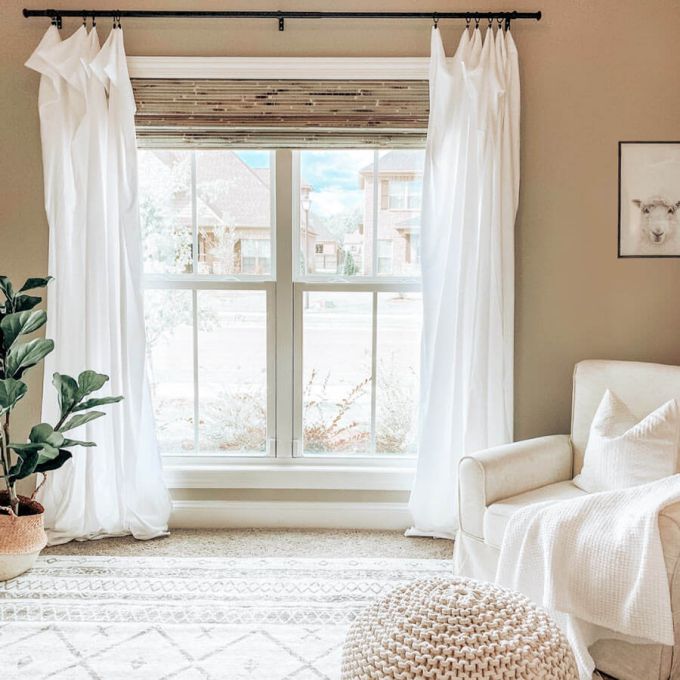 Blinds vs Curtains
It's so difficult to compare blinds to drapes because they are totally different. It's literally like comparing apples to oranges. They serve a different purpose and, in many cases, layering the two together is a winning choice. Blinds are either inside mounted or outside mounted. They can be blackout, light filtering, room darkening – anything you want is available in a blind or shade. Shades often need to be drawn up all the way to see outside, which may be inconvenient in some cases. Blinds can be tilted to allow you to see out.
If you absolutely want blackout in your bedroom, your shades will need to be drawn all the way up for you to see outside since they block out all light. If you have neighbours close by, this may not be practical for you. In that case, you can go for light filtering shades to maintain your privacy and blackout drapes so you can shut them at night, and open them up in the morning.
When Are Blinds Best?
Blinds are very functional and practical. There are motorized lift options, as well, which can make them a very practical solution. Especially for hard-to-reach places, motorized blinds are just so simple. You can also control light and privacy with your choice of blinds or shades.
Blinds work for any window and there's a style for every taste and home décor look out there. From modern to rustic, there are window shades and blinds that will work themselves seamlessly into your décor. Plus, there are so many colours to choose from that you won't have trouble finding that perfect hue.
When Are Drapes Best?
Drapes and curtains are mainly for aesthetic purposes. In certain rooms and depending on the style you're going for, drapes sometimes work very well. They add a luxurious look and feel to any room. They add sophistication to your windows and can also be quite functional, too.
Can I Do Both Blinds and Curtains?
Layering blinds or shades with drapes is a very common trend and it's actually a great one for several reasons. Aside from being able to get the look you want, layering both blinds and drapes together means better functionality. You can choose light filtering or blackout drapes and choose the opposite with your blinds or shades. This way, you can alternate depending on the time of day and get the light control and privacy control you want whenever you need it.
How Do I Choose?
The best way to choose the right product or combination of products is to evaluate your needs first. Whatever you choose has to suit your needs. Next, it needs to fit with your style and décor. To make sure you choose the right colours, fabrics, and products, we highly recommend ordering free samples first. This can help you narrow down your choices and pick the perfect item for your windows.
Do you have any questions about window blinds and curtains? Ask us in the comments below. We're happy to help!