The kitchen is probably the room everyone in the house everyone spends the most time in next to the living room. Choosing window treatments that work with your lifestyle, budget, and style can be a challenge. But, we've got a few helpful hints to point you in the right direction. Here are just a few things you need to know about choosing blinds for the kitchen.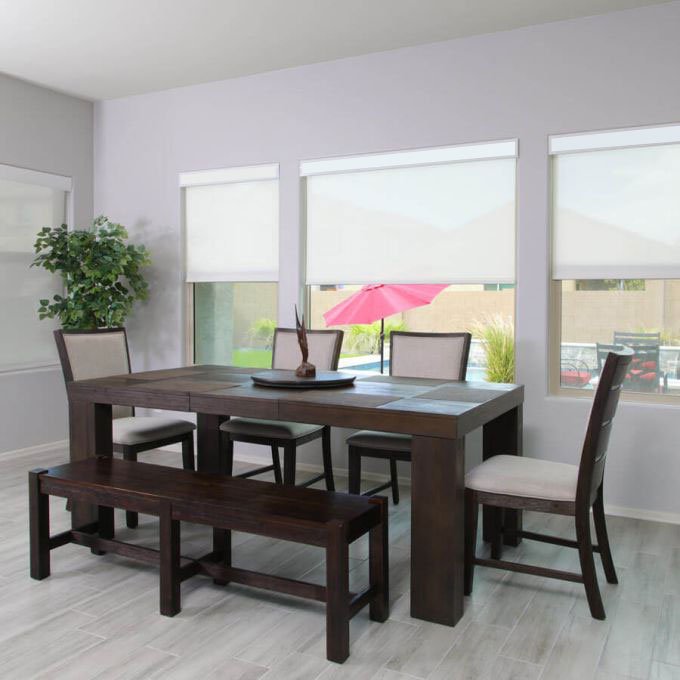 1. Consider the Position of the Window
If the window is close to your oven, you'll definitely want to consider a product that is resistant to heat. As much as you may love Roman Shades (don't we all?), it's not worth the spend here. The constant heat from your oven will damage your investment. You may be better off choosing something like a flame-retardant Vinyl Roller Blind instead.
2. Take How Much You Cook into Account
If you're a novice chef, you probably don't have too much to worry about. But if you frequently like to cook up elaborate meals, you already know humidity is going to be a problem. You would need to avoid materials that retain moisture, like wood. Instead, you could opt for Faux Wood Blinds to get the look of real wood, without having to worry about damage. Plus, they're so easy to wipe clean – what's better for the kitchen than that?
3. The Location of Your Kitchen
If your kitchen gets a lot of direct sunlight, you may want to opt for something that allows natural light in but keeps excess heat out. The last thing you need is more heat in the kitchen! Solar Shades are excellent for filtering heat and still allowing sunlight in. Plus, they are available in so many different colours.
4. Are the Neighbours Too Close for Comfort?
If you have neighbours that are very close to your kitchen window, you may want to opt for a little privacy. This can be achieved by adding a privacy liner to almost any of the window shades or blinds you can find.
5. How Much of a Focus Do You Want on Your Windows?
If you have a very spacious kitchen with large windows, you want to choose a window treatment that has a lovely finish and texture. Woven Shades can really amp up the wow-factor and are still very versatile. However, if your kitchen is a little tight, and you don't necessarily want an awkward window to be the focus, then choose shades or blinds that are muted and understated. Choose colours that blend in seamlessly to avoid calling unnecessary attention to them.
What are some of your biggest challenges when it comes to choosing window treatments for your home? Tell us in the comments below. Maybe we can help!