If you're looking to outfit your patio doors with the right window treatments, you won't want to miss this blog post. We've got all the details you need to consider when searching for the perfect blinds for your DIY home décor project. Keep reading to find out which blinds are best for patio doors.
Shop the best blinds for patio doors right here.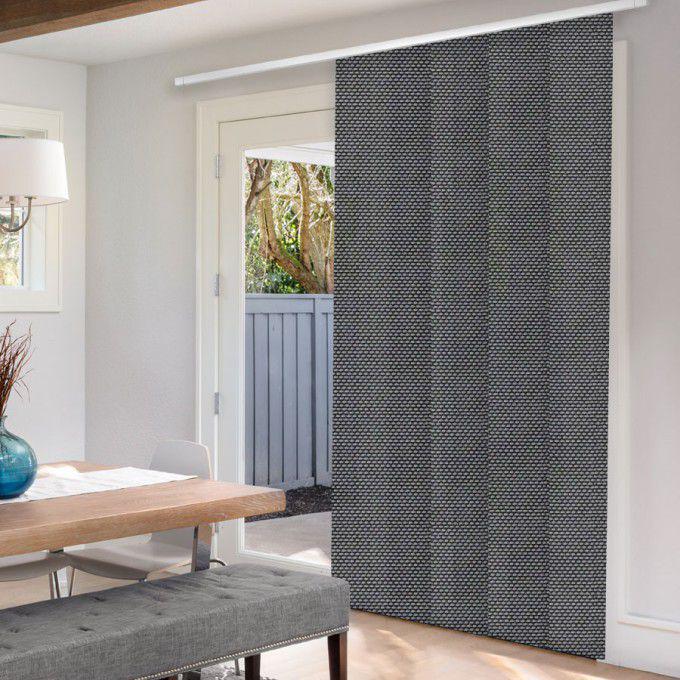 Choosing the Right Material for Patio Doors
If you are looking to get window treatments for your patio doors, you'll want to start by selecting the right type of material, based on your needs. Do you need privacy, blackout, or light filtering material? Do you get tons of sunlight and want to cut the glare and block UV rays? We always recommend starting your search by selecting the materials that are most functional for that individual room.
Blind Choices for Patio Doors
There are several options that can work for your patio doors or sliding doors:
Vertical Blinds: If you're thinking of vertical blinds from the 80s – think again! Our vertical blinds come in various fabrics, textures, and colours. From refined wood to luxurious fabrics, vertical blinds can be as stylish as any other window treatment.
Roller Shades: Our rollers can be customized to accommodate very wide windows and doors. Plus, you can also try solar roller shades for a material that will block out UV rays and glare. You can also upgrade to a motorized lift so working your shades will be even simpler.
Faux Wood Blinds: You can also try these durable blinds to match your nearby windows. Faux wood is durable and resistant to water damage, warping and bending. These affordable blinds will last for years.
Honeycomb Shades: These popular window treatments can work very well for patio doors and are super easy to lift up and down. They're versatile, available in both light-filtering and blackout, and they come in a very wide range of colours. You can also get honeycomb shades in a vertical design instead of horizontal.
Panel Track Blinds: These sleek shades are very easy to operate. The panels just slide to the side, making it very simple to use. They are ideal for sliding doors and patio doors and can be customized to the size you need. Plus, you can choose from a wide range of fabrics and materials to match any home décor style.

Drapes for Patio Doors
If you have room around your sliding doors or patio doors, you can also layer your blinds or shades with some modern drapery. This can make the room look a little bit more elegant and stylish.
Order Free Samples First
Still not sure which fabrics are right for you? We always recommend ordering some free samples first. This way, you can create a mood board or simply match the fabrics and colours to your home before you buy. If you have any other questions about the best blinds for patio doors, you can always ask us. Try leaving a comment below and we'll answer any of your questions.