Adding greenery to your space has so many benefits. Not only does cultivating plants and flowers in your home improve your mood all year long, but they can add style and a fresh look and feel to your home.
The amount of sunlight your plants get can affect how they grow. Some plants need direct sunlight and others don't so the window treatments you choose play a big role in whether or not your plants thrive. We spoke to House of Botanical to find out more about curating a beautiful indoor garden. Read on to find out which window treatments she recommends for your budding indoor garden this fall and why.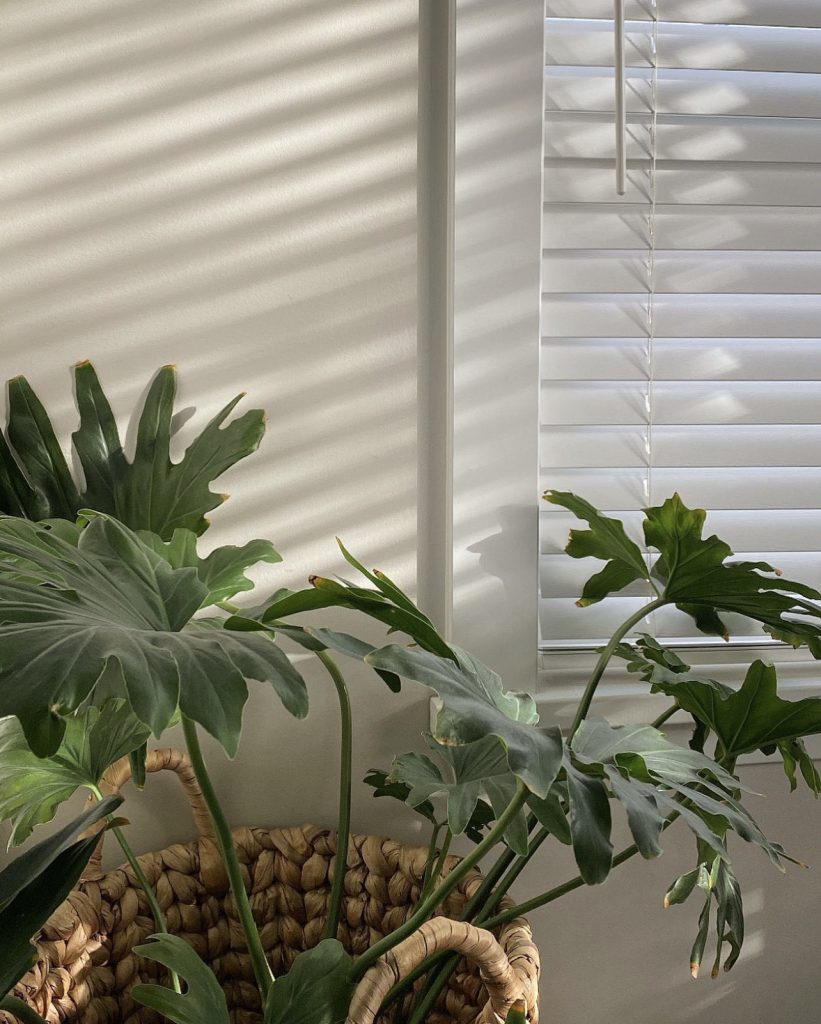 Credit: Planted Creative
Solar Shades
According to Kim at House of Botanical, some plants need light but can't be in direct sunlight or the foliage will burn. For example, plants like sansevieria,  ferns, calatheas, pothos, zamioculcas all love light but they are unable to withstand direct sunlight.
South-facing windows are great for plants but that doesn't mean the UV rays that come along with it are welcome. Kim suggests choosing solar shades to cut the UV rays that can burn these sensitive plants. You'll still benefit from the natural light but you'll protect the delicate foliage from the harsh rays of the sun.
Moisture-Resistant Shades
Many indoor plants require lots of humidity to grow and thrive. You almost need to recreate a tropical environment for some indoor plants to make it through the winter. In this case, you'll want to consider window coverings that are resistant to moisture damage and mold. Though we love our delicate sheer shades, they may not be the best for this type of environment.
Instead, Kim suggests a moisture-resistant window treatment like our faux wood blinds. These are resistant to warping and mold and are also very easy to keep clean. You also have full light and privacy control with our 2″ faux wood blinds.
Bamboo Shades
The great part about bamboo shades is that they come with the option to choose a light filtering version or you can add a privacy liner to minimize light if necessary. These are ideal for plants that don't need as much sunlight or a humid environment. Kim suggests pairing bamboo shades in a room full of plants to blend in well and offer you privacy at the same time.
"Bamboo shades are absolutely gorgeous and would pair up so nicely with plants. Both can create beautiful home decor and complement each other," Kim explains.
Tips for Growing Your Indoor Garden this Winter
It's always hard to say goodbye to summer and welcome the cooler weather. Bringing a little bit of the outside in can make the long season feel a little less drab. You can even grow herbs and vegetables if you like. Here are some tips for maintaining a fabulous indoor garden this season:
Get the Lighting Right
Before you invest in your window treatments, invest some time in getting to know your plants. What type of environment do they need to thrive and how can you provide it to them? Understanding what your plants need is the first step in ensuring they survive and thrive.
Choose Similar Plants
If you choose plants that all need a different environment, you may have difficulty keeping them all alive. Try to choose plants that thrive in similar conditions. This can greatly increase your chances of growing a fruitful garden this winter.
Keep Your Plants Together
This is particularly important for plants that require humidity. Staying close by helps plants thrive and it even helps them create more moisture between them which will allow them to grow even more. Instead of scattering them around, try to keep your plants together. This can also make it much easier for you to maintain them.
Do you have any questions about our window treatments and how they can benefit your plants? Ask us in the comments below. We're always happy to help!