Product Information
Description
Finally, a top quality roman shade at an afforable price. The Select Blinds' Classic Roman Shade combines the traditional look and feel of the roman shade with contemporary, stylish colours and fabrics. All at a price that can fit your budget.
These sophisticated custom window coverings are manufactured to your exact measurements, and are easy to install on your own. These shades are available in over 50 trending solid and sheer colours and 2 fold options - choose the flat fold for a modern look, or the soft fold for a more classic style. Made from top-quality materials, including durable 100% polyester and natural fiber blends and linens, these shades are stylish, durable, and easy to care for. You can finish the look with a blackout liner, perfect for bedrooms, nurseries and media rooms if you want to block out natural light and eliminate glare.
You can also upgrade to a cordless lift system - the safest way to go for any home with kids. These classic roman shades can also be ordered with budget-friendly motorization operated by remote control for the ultimate in convenience.
Features
Options
Light filtering or blackout liner
Budget-friendly motorized lift system
Cordless options
Flat or soft fold options
No-drill installation option upgrade
Recommendations and Limitations
Factory will deduct approximately 1/2 inch from the provided width on inside mount orders with the standard headrail, and approximately 5/8 inch with the no-drill headrail to ensure a proper fit. Deductions may vary +/- 1/8".
Fabric headrails available as an option with cordless lift system only. Motorized lift option includes built in metal headrails with fabric attached to front only.
Multiple shade orders of different heights may not have the same size pleats. We recommend ordering all shades using the longest length in the room.
Valance upgrade available with cordless lift systems only.
Outside mount valances come with valance returns.
Fabric will fall 2+ inches from the wall on outside mount. We recommend 4+ inches be added to the width of your shade when outside mounting to prevent light gaps.
Soft fold is only available with standard light filtering or blackout liner.
Colour of unlined shades will be seen from exterior.
Colour of optional liner will be visible from street. If standard light filtering liner is chosen, white fabrics will come standard with white liner. Blackout liner comes in standard ivory.
Fabric colour can vary from one dye lot to another. To ensure that all materials are from the same dye lot, please order shades for the same room at the same time.
Fabric roman shades may have some wrinkles after installation. Most minor wrinkling will smooth out within a few days. For faster results, you can use a garment steamer on the back of the shade, but please be careful to avoid any contact with the fabric.
Hold down brackets are not available on this product.
No-drill Headrail is only available in the color white and will be visible after installation, with or without valance.
No-drill headrail is only available for inside mount.
No-drill headrail max width: 87". Max height: 75". 2 1/2" of depth to install required.
The locking mechanism on the no-drill installation headrail will be located on the right side for Cordless and Motorized options.
IMPORTANT MEASURING TIP: If the no-drill installation headrail is chosen, measure the exact width of the top of your window frame and use those measurements as your width. Do NOT take the smallest of the three measurements, which may cause your headrail to not fit properly.
Specifications and Installation
Width

18" - 90 1/2" Cordless Lift
22 1/2" - 94" Motorization

Height

19 3/4" - 72" Cordless Lift
16" - 106" Motorization

Min inside-mount depth
Min flush-mount depth
Headrail dimensions

7/8" H x 2" D Cordless
1 1/2" H x 1 5/16" D Motorization
WARNING
STRANGULATION HAZARD — Young children can be strangled by cords. Immediately remove this product if a cord longer than 22 cm or a loop exceeding 44 cm around becomes accessible.
PRODUCT REVIEWS - READ WHAT OUR CUSTOMERS ARE SAYING
Customer Photos
Motorized blinds over tub
by
Claudia from Oakville, ON on Dec 4, 2023
We love our motorized Roman blind. The window is over the tub so always a hassle to raise or lower. Select blinds offered the perfect solution at a reasonable price. Didn't have to charge it for over a year!
Would you recommend this site to a friend? Yes
Product Reviewed:
Very happy
by
Wendy Vlasic from Miller Lake, ON on Dec 3, 2023
As a repeat customer, we are very happy with our blinds.
Would you recommend this site to a friend? Yes
Product Reviewed:
Roman Shades from Select Blinds
by
David Large from Nepean, ON on Nov 29, 2023
I received exactly the Roman blind that was ordered, within 2 weeks of placing the order. It fit perfectly, it was easy to install, and it operates easily and well. Highly satisfied, highly recommend.
Would you recommend this site to a friend? Yes
Product Reviewed:
Just Perfect!
by
Edy Morales from Sherbrooke, QC on Nov 24, 2023
I just installed the classic roman shades and they are so beautiful! The white linen fabric looks really elegant and has a really nice texture. The black out liner really does a good job at blocking out almost all of the light. Really good quality for the price and the delivery was quicker than I anticipated. 100% would recommend.
Would you recommend this site to a friend? Yes
Product Reviewed:
by
Alison Martin from Calgary, AB on Nov 22, 2023
Great product and decent quality, videos helped to show how to install Love the no drill instillation it is a perfect fit!
Would you recommend this site to a friend? Yes
Product Reviewed:
Love my blinds!
by
Ranie Stevenson from Elbow, SK on Nov 18, 2023
Nice quality, good delivery and the fabric and colour matched the sample perfectly.
Would you recommend this site to a friend? Yes
Product Reviewed:
Blinds
by
Brenda Walsh from Westphal, NS on Nov 15, 2023
First time purchase very nice blinds well made, the only negative was it was very hard to mark as a pencil would not fit through the opening to mark
Would you recommend this site to a friend? Yes
Product Reviewed:
blinds are ust perfest
by
Denise Fortin from Jonquiere, QC on Nov 8, 2023
Did buy the roman ahade blinds anre they are just perfect. Love them very much . The color is just what i wanted also.
Would you recommend this site to a friend? Yes
Product Reviewed:
beautiful colour and easy to install
by
Sheena Gibbs from Winnipeg, MB on Nov 5, 2023
I really appreciate the fast sample delivery so that I could make my selection. They came and were easy to install.
Would you recommend this site to a friend? Yes
Product Reviewed: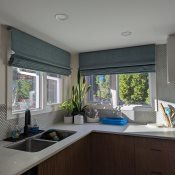 by
Beata Dwight from York, ON on Nov 3, 2023
Easy to order, fit perfectly, love them
Would you recommend this site to a friend? Yes
Product Reviewed:
Top
Close
Write My Product Review