Product Information
Description
Designer Drapes/Curtains are available in a wide selection of colours and textures, from solids to silk whites; you'll be sure to find the perfect print for your home. Style them on their own, or pair your custom drapes with roller shades, bamboo blinds or other window coverings for a layered effect.
These drapes are offered in 2 popular styles: grommet or pleated. Large 1 ½" grommets create soft folds which gives a casual, yet classic look to your home. Pinched pleats pair nicely with traditional décor. Further customize your window coverings by adding privacy or blackout liners, tiebacks or rods with coordinating decorative rings.
Features
Sold as single, unlined panels
Drapery is finished with mitered corners, weighted hem tape and corner weights.
Options
Your choice of Grommet colour: Oil Rubbed Bronze, Satin Nickel or Antique Brass Finish.
Optional privacy or room darkening liners available.
Optional accessories include decorative rods and tiebacks.
Recommendations and Limitations
Sold as single, unlined panels.
Colour of unlined panel will be seen from exterior.
Grommet drapery comes standard with 225% fullness and Pleated drapery comes with 200% fullness. Fullness is extra fabric across the width of the drapery to provide a richer and fuller look. It increases light and sound absorption.
4" bottom hem. 1-1/2" side hems. 1" from inside top of grommet to top of drapery.
Length provided will be the length delivered, to the nearest ¼". Usual and customary to order length ½" off floor.
Choose type of liner for your ideal privacy. Optional liner colour will be visible from the street. Privacy liner comes in white or ivory. Blackout liner comes standard white.
When ordering optional decorative rod, be sure to match it to grommet finish for grommet style, or optional decorative rings for pleated style.
Grommet width is 1 1/2" in diameter. For best results, we recommend hanging from rod 1-1/4" in diameter.
Pleat and Grommet included in length. Measure length from inside top of grommet to the floor.
If your drapery arrives slightly wrinkled, you can correct that quickly with a garment steamer, being careful to avoid direct contact with the fabric. Most wrinkles will relax and smooth out over the first week.
Fabric colour can vary from one dye lot to another. To ensure that all materials are from the same dye lot, please order drapery for the same room at the same time.
Specifications and Installation
Width

24" - 96"

Height

24" - 200"
WARNING
STRANGULATION HAZARD — Young children can be strangled by cords. Immediately remove this product if a cord longer than 22 cm or a loop exceeding 44 cm around becomes accessible.
PRODUCT REVIEWS - READ WHAT OUR CUSTOMERS ARE SAYING
Customer Photos
Exactly what I was looking for!
by
Cynthia Top from Brighton, ON on Nov 13, 2022
Would you recommend this site to a friend? Yes
Product Reviewed: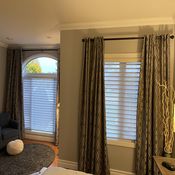 by
Janice Hodges from Niagara Falls, ON on Nov 2, 2022
The blinds I selected were a perfect fit. The only thing missing was tooless instilation. I called customer support and explained situation. I was immediately sent an email with instructions. Took me less than 5 minutes to install.
Would you recommend this site to a friend? Yes
Product Reviewed:
Drapes and Blinds
by
Julie Entwistle from Jerseyville, ON on Jan 8, 2022
I ordered from Select Blinds again and again was not disappointed! The free samples helped me pick blinds and drapes that go nicely with my decor, and the sizing is always spot on. They fit and look great. The room darkening drapes are of great quality and really keep the light out!
Would you recommend this site to a friend? Yes
Product Reviewed:
by
David L Mcewen from Kanata, ON on Jul 6, 2019
by
David L Mcewen from Kanata, ON on Jul 6, 2019
Wonderful products, terrific service
by
Carol Fitzsimmons from Victoria, BC on Nov 29, 2015
3 times I ordered samples to be very sure about colour...no problem...no questions asked. I had several on line chats so that I could be sure I didn't make any mistakes prior to placing an order.......eventually, I ordered blackout double cell blinds and some drapery to use as side panels. Both products are terrific. Our renovated master bedroom looks terrific. I would definitely recommend this company both for their product(s), but also for the service I received.
Would you recommend this site to a friend? Yes
Product Reviewed:
1 - 6 of 6
Top
Close
Write My Product Review